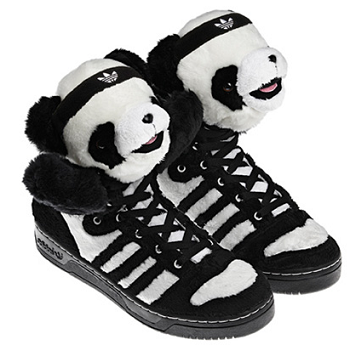 Context is everything. I was startled when I first saw this fuzzy, flamboyant sneaker, thinking it was meant for adults – maybe an unfortunate extension of the furry fetish? But some things are, indeed, innocent! Phew. Funny how perspective can change everything. For tots, this is absolutely genius and adorable.
Jeremy Scott, of the winged Adidas kicks, tweaked Coca-Cola logos (instead his shirts read, "Enjoy God"), and Flinstone outfits (Pebbles' bone-bow included), says, "You should have fun with fashion." Who can have more fun with clothes than our tots? Combining the black-and-white stripes of Adidas classic soccer shoes and a friendly stuffed animal, it doesn't get much better than this.
I have always attributed my tots' love of panda bears to their Chinese heritage, but I recently realized pandas are universally beloved because they are so docile and cuddly. Not only is this fur-lined sneaker pure amusement for the tot wearing it – could that happy greeting pose be any cuter? – it's uplifting for all passers-by. Available for $104.