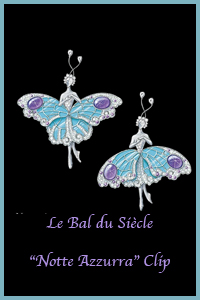 Jewels have the potential to transcend time and place, to distort our own less sparkling realities into something more romantic and enable us to fantasize. No jewelry house seems to understand this like Van Cleef & Arpels. Their recent collection, Bals de Legende, is inspired by the greatest parties in history and spans references from the past over hundred years. It plays on the concepts of enchanting memories, bygone eras, and spectacles that seem all too removed from the world we live in now – and the results are stunning.
Be transported to Le Bal du Palais d'Hiver, which took place in St. Petersburg, 1903. The sumptuous court of 17th century was recreated in a winter palace of ice and snow. What's most exciting about a Russian ball? The focus is on the most precious stones people can find. Costumes were heavy, laden with jewels. This ball is still considered the "most impressive display of stones the world has ever known." No surprise it marked the end of a grandly luxurious era. Naturally, the jewels to go with it are truly decadent – heaping strands of lapus lazuli and pearls adorned in diamonds, plus rubies and rubellites and mandarin garnets. The "Providence" ring is a standout, a sugarloaf emerald of over 20 karats and trimmed in violet and pink sapphires, diamonds, and more emeralds. Le Bal du Palais d'Hiver, "Providence" ring is SOLD OUT.
Venice's Le Bal du Siècle took place in September 1951, after famed party-thrower Beistegui discovered an old castle and saw 18th century Italy. Guests arrived by gondola and only to discover an immense spectacle before them. While Cardin created spectacles covered in ants for Salvador Dali, while Barbara Hutton spent $15k on her costume. Jewels set in motifs of exotic birds in colored diamonds, flower bouquets of isavorite garnets, and sapphire dancers suggest the whimsy of the ball. The "Notte Azzurra" clip depicts charming butterfly-dancer girls glittering with massive mauve-star sapphires, turquoise and diamonds. Le Bal du Siècle "Notte Azzurra" clip is SOLD OUT.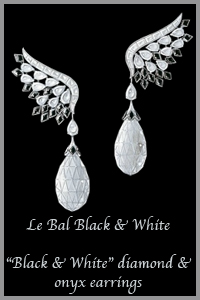 No lesson in balls would be complete without Truman Capote's coming-out celebration, Le Bal Black and White. He co-hosted the affair at the Plaza Hotel in November, 1966, along with hostess, Kathertine Graham, editor of The Washington Post. Playing on the concept of instant celebrity (precisely what Capote himself was experiencing at the time), he imagined it like a scene from a film about the international social elite. And that's exactly who showed up, donning masks and carrying fans (though it was hard to do both at once!), as per the writer's request. This was New York City in its glory days. The "Heavenscraper" necklace and "Abstraction" ring are clearly inspired by the sleek, towering buildings of Art Deco architecture on Fifth Avenue, and the "Black & White" briolette-cut diamond and onyx earrings are perfection combination of city-strength and masquerade drama. Le Bal Black and White. "Black & White" briolette-cut diamond and onyx earrings are SOLD OUT.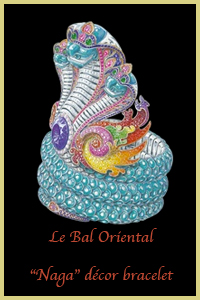 Exoticism took hold of the Hotel Lambert in Paris in September, 1969 for Le Bal Oriental. A new world, with elephants greeting the guests, the women wearing stomach-baring costumes, and robot torch-bearers lining the staircase, was devised. The atmosphere was meant to overwhelm with "beauty, perfection, surprise" – and be totally ephemeral. Ruby and diamond flowers to drape around the throat and colored sapphire earrings dancing with movement reek of high drama. But the wild "Naga" décor bracelet is the big winner: a flamboyant serpentine cuff of a rainbow cornucopia of diamonds. Le Bal Oriental. "Naga" décor bracelet is still in production and price will be available in September.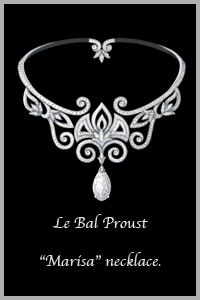 Marisa Berenson likened September 1971's Le Bal Proust, in where else but Paris, to stepping into a Visconti film. With headdresses and big as the bouquets of white flowers, she says there were countless tiaras and lots of jewelry. Of course, Elizabeth Taylor was covered in the biggest diamonds. But it is Berenson who now has a necklace named after her; the "Marisa" necklace, a curving creation of white gold and diamonds, completed with a pear-shaped 10.32-karat diamond That ball was one of the "moments when you tell yourself life is beautiful." I think fine jewelry should create those moments. Le Bal Proust, "Marisa" necklace available for $2,550,000.