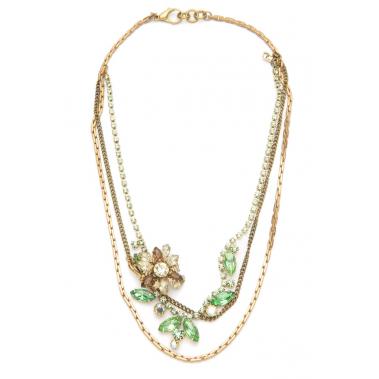 When it comes to gracefully chained necklaces, excess tends to look better than less. Layering your strands is the way to go for plentiful-chic, but why bother creating a multi-themed mélange yourself when your necklace can do all the work for you? (Plus, a single clasp means no tangling!) I've been seeing a lot of multiple-layer necklaces – and I love these eclectic combinations. Some have various chains with agate centerpieces, but Lulu Frost's vintage heirloom mash-up takes it all the way.
Normally, tonal crystals in a flower motif could look prissy or prudish, but this winding, off-center design has a strong sense of whimsy. Woven with other gold-tone chains and the result is a beautiful frame for an asymmetrical flower with a rhinestone stem. At Kirna Zabête for $405.
Pair with: A chunky cable-knit sweater pays homage to Frost's vintage references, and it doesn't get much better than ombre Missoni. Their Bois alpaca-blend cardigan adds coziness to your element of sparkle. On Net-a-Porter
for $1,925.