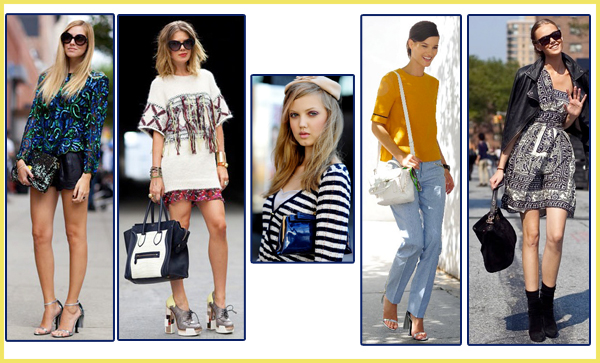 Now that the frenzied fashion pack has shuffled their sky-high sandals across the Atlantic to London, it's time to take stock of the street-style looks that managed to stand out among the ahead-of-the-curve editors, off-duty models scampering between shows, and yes, the well-heeled bloggers! Let's take a look at what Mr. Newton for Harper's Bazaar, Hanneli Mustaparta for her very own blog, and Craig Arend for Vogue snapped up last week:
Sequins for day? In the form of an oversized metallic clutch, for sure! Here's an instance when size really counts – the big proportion keeps it out of evening territory. Especially paired with pleated leather shorts, a wildly print blouse (bedazzled in colorful sequins, at that), and caped-crusader Alex Wang heels.
When you've got kooky Balenciaga platforms, a heavily frayed Navajo sweater, and an au courant chopped-up bob, her two-tone Céline luggage tote is the structured yet of-the-moment bag that polishes and pulls it all together.
Fresh young supermodel Lindsey Wixson, right off the Peter Som runway, channels her inner French ingénue by pairing a camel cashmere-blend beret, silk-chiffon camisole, striped black-and-white knit with a high-shine, gold-framed clutch.
The silver Wang sandals strike again! Styled so differently by Hanneli herself, you can hardly recognize them. Sure, crisp trousers and a mustard Acne sheath top are a fine late-summer pairing, but you've got to hand it to her white Philip Lim shoulder-top-handle convertible satchel for elevating the multi-hued look.
The lovely Frida Gustavsson looks right off the spring Donna Karan runway, thanks to her tribal-print Anna Sui frock, vintage leather jacket draped like a shawl, and suede Prada booties. Why does it work? Frida's slouchy Fendi hobo seamlessly blends her feminine yet toughened-up day look.