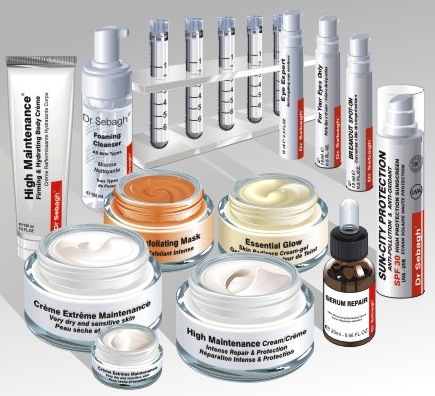 Cosmetic surgeon Dr. Sebagh, the creator of the Dr. Sebagh skincare line, has worked with countless celebrities including Cindy Crawford and is one of the first doctors to use Botox for cosmetic purposes. I haven't used his skincare line so I can't speak to its efficacy, but he's a wealth of knowledge so I was excited to have the opportunity to interview him (thank you Barneys!). See what Dr. Sebagh had to say about what makes his line different, how long the average skincare product lasts, the biggest skincare mistake people make, and more.
With so many dermatologist-developed products on the market, why do you think your line stands out?
Though I am not a dermatologist but a cosmetic surgeon who now specializes in non-surgical age maintenance treatments, I developed the Dr Sebagh Advanced Anti-aging skin care line to give everyone the opportunity of having the best skin possible, irrelevant of age or skin type. Focusing on what the skin really needs, I created a concise range of products that provides everything that a healthy skin requires to look beautiful and feel comfortable. Using the latest skin care technology and know-how, I worked with my team of leading French chemists to create skin care that is modern, potent and above all, effective.
Once opened how long can the average skincare product last?
This will vary from range to range and product to product, depending on the formulation, packaging, etc. However, I would expect any premium professional skin care product to have a shelf life, after opening of 12 months. Jump for more!

What is the biggest skincare mistake you think that people make?
Without question expecting miracles from their skin care products and choosing products that are not suited to the individual skin type and needs. No matter how effective a skin care product is, you cannot expect it to perform miracles. If you are 45 and have never followed a good skincare regime, you cannot expect a topical product to suddenly reverse the signs of aging. This is why I passionately believe that the sooner you begin a good skin care regime (late teens/early 20s), the greater the benefit in later life but it is so important to select skin care products that are suited to your needs – don't simply self-select but seek expert advice from a trained consultant who understands and cares about their product.
Are there any skincare products you think all women should use? Men?
Everyone, whether they are a woman or a man, should follow a simple but effective skin care regime: Cleanse, to remove dirt, excess sebum, etc; exfoliate twice a week to remove dead skin cells and encourage new cell turn over, protect the skin using a product that is packed with anti-aging and environmental protection ingredients and moisturize to restore the skin's natural lipid barrier and to protect the skin.
What's your daily skincare regimen like?
Of course I only use Dr Sebagh products. I clean the skin with my Foaming Cleanser before mixing my Supreme Maintenance Youth Serum (which contains 95% active ingredients to protect the skin) with Rose de Vie Serum Delicat (which contains organic rose hip oil and some key biotech ingredients to soothe and intensely moisturize the skin) to create my own bespoke "crème de serum" that can be altered to meet my individual needs depending on the season, how much I have been traveling, etc.
6. What are key ingredients we should categorically avoid when shopping for skincare?
There are so many ingredients that are used in some skin care products that are not beneficial but I believe that it is better to avoid silicone in great quantity and products that contain lanolin due to the risk of a potential allergic reaction and finally, chemical filters in sunscreen versus Mineral filters, such as zinc, which are far more desirable.
Is there one product in your line you're particularly proud of? If so, why?
I am very proud of the Dr Sebagh Supreme Maintenance Serum, which is the best-selling product within the range. It is the ultimate power-packed, rejuvenating serum for the face, neck and décolleté with the highest concentration of active ingredients of any beauty product available on the market (95%). It contains vital nourishing ingredients that work in synergy to fight the effects of aging, showing significant improvement to firmness, elasticity, tone, radiance and protection against attack from free radicals and is a light, oil-free, non-clogging formula that acts in four key areas:

Supreme Protection – with four vital anti-oxidants to protect your skin:
Supreme Skin Tightening, Firming and Re-texturising
Supreme Hydration and Replenishment
Supreme Radiance
It is such a versatile product and so easy to use. You can apply it to freshly cleansed skin before your moisturizer or, as I mentioned earlier, mix it with you preferred oil-based moisturizer to create your own personalized active and effective moisturizing serum.