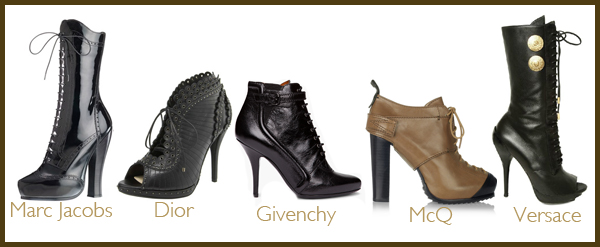 Your granny's booties? Not even close. The latest selection of lace-up boots at Shoe Snob posses the refined quaintness of the Edwardian era with an edgy and often almost S&M spin!
Textured Tights Take a Playful Turn This Winter Season at TheFind!
10 Instant Fall Classics to Add to Your Closet at FabSugar.
This Ralph Lauren jacket merges Tot Snob's snappy fashion fantasies with the real deal.
Red Carpet Fashion Awards has Zooey Deschanel In Moschino at the 2011 World Series Game 4 – Texas Rangers v St Louis.
Couture Snob suggests capes as the perfect top-off option – the movement, drama, and warmth that you need when it's not absolutely freezing!
The Fashion Spot's Apartment Fashion: Love Where You Live.
With lots of vintage inspiration, Kelly Framel at Jewel Snob uses antique and recycled materials for sustainable pieces that transcend time.
The Budget Fashionista has 13 Great Fall Dresses for Under $50.
Just a dab of the Le Métier de Beauté Crème at Beauty Snob will offer that natural glow to your cheeks or a bitten tint to your lips, and it comes in five appealing shades.