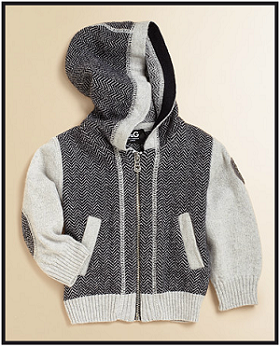 What your tot needs – and what you want – is something all men can appreciate: comfort and style, and D&G delivers with this hoodie that's the best of both worlds at Tot Snob.
Fantasize about turning your favorite Tory Burch Reva flats into wedges? Stiletto Jungle found your dream shoes.
Whether a cozy layer, a swing of texture, or the touch of leather you need to give your look some power, the right vest, like these at Couture Snob, will change your entire mood in a heartbeat.
Allie is Wired has Britney Spears's new Criminal video, featuring her current boyfriend Jason Trawick.
Every girl needs "The Stripper to Go" in her beauty arsenal – and, seriously, Beauty Snob is buying this for all her girlfriends!
Fashion Pulse Daily picks the best of Versace for H&M; what do you think of the collection?
Women are starting to revolt against tear-jerkingly painful, colossal heels, and Shoe Snob thinks the kitten heels on these Givenchy sandals will lead the shoe revolution!
The Jet Set Girls are looking forward to the latest designer collaboration at Target: Albertus Swanepoel's hat collection.
Cool Capes to try now at FabSugar.
Less is more? Jewel Snob doesn't think so! With this maximal beaded necklace, Alexis Bittar proves more is not only more, it's better.
Second City Style is in love and all choked up over Our 9 Favorite Chokers.
For Fall and Winter, Shopping and Info is in love with this A.L.C. Leather Motorcycle Jacket with its shearling lining and elbow patches.
StyleBakery says the hottest new celebrity hairstyles for fall are bangin'
Get a DIY Halloween manicure at The Beauty Stop.