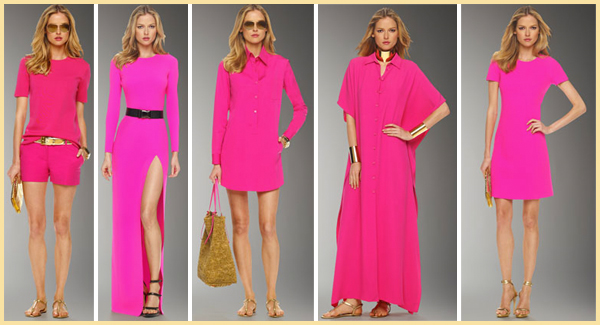 Gush as much as you want about Michael Kors' way with safari-toned neutrals, but when it comes to color the man really knows his stuff. Now that he's gone all out with hot pink, I'm having a major OMG moment. I'm loving his way with fluorescence so much, I must make my entire wardrobe fuchsia now.
He's achieved the perfect high-wattage, glow-in-the-dark form of fuchsia, suddenly giving me an insatiable lust for this color. True, you might have to pull on a pair of shades to keep on staring at all these hot looks, but imagine these outfits worn individually, how you will instantly power up any room you enter. Literally. Kors was inspired by an Australian holiday for his Resort collection, but like any good city boy, he made sure these sporty neons would look just as savvy at home as they do on the beach Down Under.
He has utilized the electric hue for every level of dress, from the casual sandy stroll to the sensational red-carpet event. Just be sure whatever you're doing, you're happily unapologetic about attracting attention.
Cashmere Crew Tee and Mini Shorts: No holding back here. Worn with all-gold accessories nearly as bright as the clothing, this pairing of a classic crewneck and summer shorts is insanely gutsy! At Neiman Marcus for $895 (tee) and $495 (shorts).
Slash Gown and Elastic Speed-Clip Belt: A quietly revealing gown like this is classic Kors. But there's nothing else quiet about it! This is for the girl who demands to be heard – and seen. I only wish the stylist had gone all-out with the gold belt here (it's not included, so you can take the liberties you want). Either way, it's total glamazon. At Neiman Marcus for $3,995 (gown) and $250 (belt).
Poplin Shirtdress: Thanks to the statement-making color, even the easiest of poplin shirtdresses rapidly becomes a major look. At Neiman Marcus for $795.
Marocain Kimono-Sleeve Caftan: Easy beachwear is taken to bold new heights that will make the sun's piercing rays pale in comparison. At Neiman Marcus for $1,995.
Stretch Bouclé Dress: Few work-ready dresses have the ability to take the drab out of any fluorescent-lit office. Save it for a day when you plan to go out for evening cocktails afterwards – you'll want to milk this one. At Neiman Marcus for $1,595.