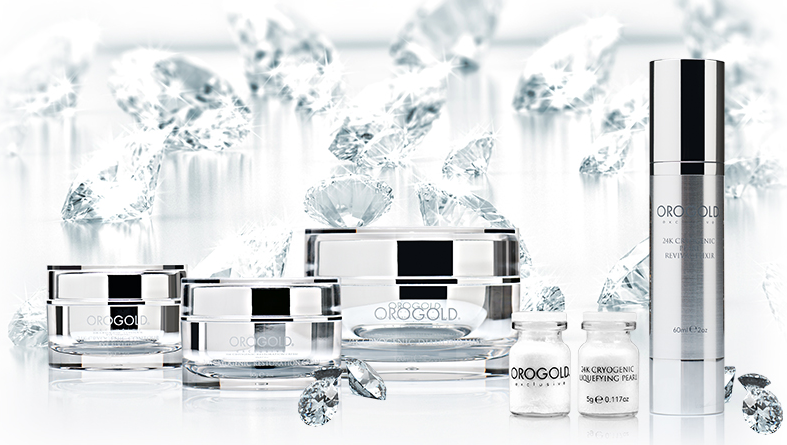 If you have ever been to a mall in a major city, you have undoubtedly seen the fancy store fronts of OROGOLD, or more likely, encountered the aggressive sample pushers at their doors. The sales people actually stand in the middle of the mall and accost every unsuspecting woman passing by with the hopes of a miracle product made of real gold. Even if you flinch most subtly while passing them (which I did because I was curious), they will pounce on the opportunity and literally drag you by the arms and force you in to their store for a sample treatment. And that is when the scam charade begins.
Admittedly their store is very nice and has the intended effect of making you feel everything is made of gold. I was seated in a very comfortable chair and the sales guy started with an eye cream, which he promised will immediately show its miracle results. He gave me a hand mirror so I can personally witness the transformation. The 24K Cryogenic Contour Eye Firming also contained diamonds! It was explained to me that it will literally reverse age using cryogenic technology. Uh, OK (emoji with one raised eyebrow). He applied the cream on the left eye only so I can compare one treated eye with the untreated. I could feel tightening right away and when I looked there was a dull film that dried under my eyes. It feels very smooth to the touch and my initial reaction was that it is very similar to when Elmer's glue dries on your skin. But this is a very thin layer so it wouldn't actually peel off if you tried. While he went to get the next product, I took tissue and wet it in my mouth to clean the product off and lo and behold my eyes returned to its original state. When he came back I got a nice tongue lashing and when I challenged him, he said that over time my skin will permanently be tighter and smoother, but "if you wipe it off every time, it won't work". Gee thanks for the PSA. I suspect at this point he realizes he is starting to lose me. So he starts his propaganda again with the next product.
Their real specialty is spotting weakness; he saw that I have hyper-pigmentation so he used the 24K peel on my hand. It was applied in a circular motion and after a few seconds "dead skin" began sloughing off and some black stuff was coming off with it. He said the product was removing all the hyper-pigmentation from my skin with its powerful ingredients but this time, it really was Elmer's glue! We've all done it, when you rub glue off residual dirt comes off with it, but instead I was told it was my age spots coming off. I scoffed and although he tried to sell me on a facial where I could experience the full magnitude of the product line, he could tell that I wasn't playing. At this point, I was there to collect info as a blogger because this was too good to pass up. He smelled it on me so when I asked how much everything was, he just gave me an iPad to their website with prices. My jaws dropped, I couldn't believe the Bio-Brightening Complex peel was $118, a $2 bottle of glue would do the same! The Cryogenic eye cream is $300. In a deadpan voice, he said, if you're interested in buying both I can give you a discount.
In the chair next to me, an older Asian woman was getting the hard sell but she was totally into it. She signed up for the free facial the following week, with the purchase of the entire 24K Daily Essentials Kit. Then they tried to upsell her on the entire regimen, which was $5000!!! But of course, they would give her the entire package for $2000 and the free facial. There was also the Cleopatra Regimen for $8000!! I was so jealous I didn't get those offers because I had so many questions!!! When I looked online, the only information I got was that this is the same secret formulation Cleopatra used to preserve her beauty. Seriously? Her big secret was apple cider vinegar wash and almond oil, which will set you back all of $30 for the good stuff. I'm pretty sure she saved her gold and diamonds to fund wars.
There is also a new brand called Gold Elements. I thought it was Oro Gold renamed because they've had so many complaints but this is a copycat and their tactics are almost identical. Beware of both!!