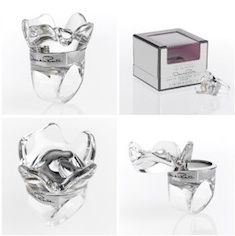 What's chicer than an Oscar de la Renta cocktail ring?! One that opens to a delectable perfume solid that allows you to discreetly "freshen" up anytime, anywhere, without missing a beat! At Beauty Snob.
The Jet Set Girls take a sneak peek at the new Girl with a Dragon Tattoo collection at H&M.
Second City Style asks, what's not to love about this trend? Trending: Black & White & Our 12 Picks.
Miu Miu has been killing it lately when it comes to shoes and Shoe Snob has yet another pair that nails it, particularly if you're talking unique design and multi-purpose wear.
Shopping and Info loves this amazingDKNY Black Shearling Coat for the Holiday Season..
Once reserved for faithful teenage couples saving themselves for each other, this quirky Promise Ring three-ring set at Jewel Snob gives it an entirely new meaning.
It's Cheap Chic Week at StyleBakery.com! All week long, they're hunting down the best fall looks under $100.
So whether your tot can create her own designer doll or you turn it into a mother-daughter activity, this is a special opportunity to create something memorable and truly special at Tot Snob.
3 Chic Ways to Slip into Jewel Tones at FabSugar!
When Oscar de la Renta does tough-girl hardware, it is anything but typical and his studs with chic polish, giving the metal-trimmed belt at Couture Snob a whole new meaning.
Fashion Pulse Daily attends the debut of the much-needed plus-size fashion forward line eloquii by The Limited.