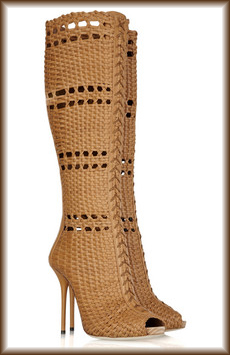 Cutting-edge spring shoe or wearable picnic basket? Gucci's straw-colored woven boot is one of those things that we see everyday in the fantastical world of couture: it's conceptually cool but has no actual function. Yes, there are times when fashion wins over function, no contest (although the only shoes I covet feature both qualities, in equal measures), but I have to say: even if you're talking looks, it is a bit odd to wear lawn furniture on your feet. Especially when your new warm-weather heels come in the form of a knee-high boot (I can feel the sweat now). You know how you get waffle butt when sitting on a rattan chair?  Imagine the a perfectly waffled calves and feet. But I'm still looking at them, aren't I? Actually, I can hardly peel my eyes away, although I'm content to keep them at a distance.
Leave it to Gucci to make even wicker stand out – they have achieved the look of the processed tropical palm with woven leather. And I'll admit, it is an intricate and taut weave; however, the bag versions are preferable. Though either way, I'm still not yearning for the look of it unless I'm lounging in it with a Mai Tai in hand.
On Net-a-Porter for $3,750.