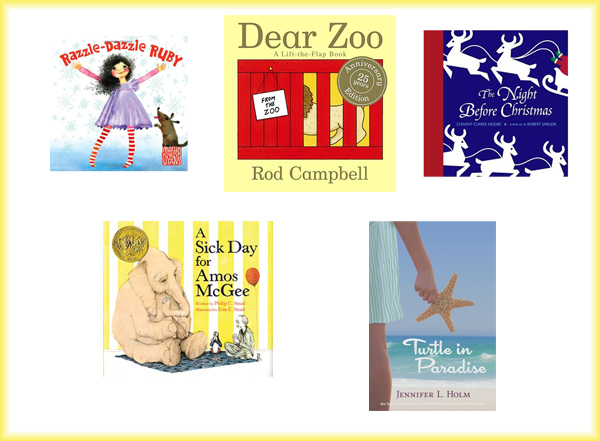 We all know the all around benefits of books so it's no wonder it is probably under everyone's tree. I love sharing my tots' favorites as well as receiving recommendations, moms are the greatest book club there is.  Here are my five top picks to take center stage in the stocking this year. Be sure to stock up on these goodies. You and your child will treasure them way after the stockings are down. Order today on Amazon and receive in plenty of time for Christmas.
1) Razzle-Dazzle Ruby, by Masha D'yans: Pop-up books are always a favorite. This is a fun one that is interactive as well. Kids can manipulate the pages that sparkle, spin, and twirl. It is one of my four-year-old's favorites! On Amazon for $12.23.
2) Dear Zoo: A Lift-the-Flap Book, by Rod Campbell: If you don't already have it (and you just may)Dear Zoo is a must-have! It's a flap book, but the story is so cute and charming your little one will love it! On Amazon for $6.99.
3) The Night Before Christmas, by Clement Clarke Moore: This three-dimensional book has amazing pop-out pages that will make your tots giggle out loud. And, of course, it's a must read on Christmas Eve! On Amazon for $17.81.
4) A Sick Day for Amos McGee, by Philip C. Stead: A Sick Day for Amos McGee is this year's Caldecott winner. Need I say more?? And  just the cover makes you want to give that elephant a big hug. On Amazon for $10.36.
5) Turtle in Paradise, by Jennifer L. Holm: Turtle In Paradise is a chapter book for young readers. It is one of those stories that will give you a lot of opportunities to discuss the complexities, as well as beauties, of life with your tot. And don't be fooled, Turtle is a little girl who inspires our affection. On Amazon for $11.55.