This offbeat and painterly cluster something out of a work of modern-abstract art by Picasso or Henri Matisse. And that's just the idea! Intention changes everything – this kooky ring is from Yves Saint Laurent's Arty collection, and the name says it all. Each jewel is like a miniature museum piece for your very own hand.
Rich, vibrant blue enamel is pronounced by gold-plated tin trim, but what are we looking at exactly? Just like the professor posing a question in Art History class, YSL wants you to be the judge. I'm seeing swirls of mutilated roses, opened up, pulled apart, which have then been doused in bright oil paint and trimmed in gold leaf.
Indeed, there is more than a hint of the free-spirited (if not tortured) European artist here.
This ring almost looks as if it has a life of its own! Style it creatively and show off your own artistic nature – confidence is key. You march to the beat of your own drum, and don't care if nobody "gets it."
On Net-a-Porter for $250.
Pair with: Counter your abstract art with something wild and graphic, even a little Pop Art. Charlotte Olympia's linen wedges will do the trick. Wedges of bold black-and-cream stripes make for a strong statement, while the classic knotted strap is a retro throwback.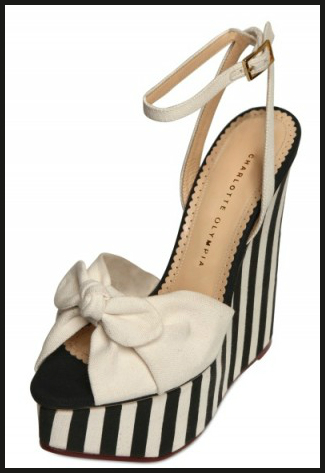 On Luisa Via Roma
for $948.