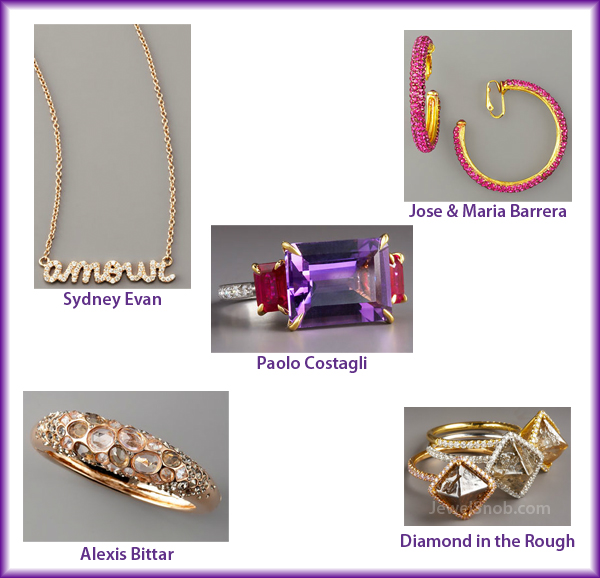 Jewelry is a pretty serious Valentine's gift – it makes a strong statement. So if you are semi-single and find yourself receiving a piece of sparkle this year, you'd better be ready to walk down the aisle soon! Whether it's from a secret admirer or a long-time hubby, nothing is more sentimental than jewelry, but that doesn't mean you can't have fun and keep it lighthearted. Here are some not-so expected pieces – and one that is, for good measure.
1) Paolo Costagli Amethyst Ruby Ring: A bright amethyst, accented by two equally eye-catching rubies, looks good enough to eat. But it looks better on your finger! Fun and gorgeous, this will make the sun come out and shine for you. At Bergdorf Goodman for $4,800.
2) Alexis Bittar Druzy Droplet Rose Gold Hinge Cuff:  Rose gold is feeling more and more sumptuous these days. Particularly when it's packed full with pave crystals. Pretty in pink and easy to coordinate, need I say more? At Bergdorf Goodman for $425.
3) Diamond in the Rough Dark Cognac Diamond Ring: Aren't we all diamonds on the rough in some way? Deep, rich, and unusual, this is the perfect kind of diamond to have, especially if you are a single lady. Why wait for a man to buy you a diamond? At Bergdorf Goodman for $12,500 (pictured with gray and cognac rings).
4) Jose & Maria Barrera Crystal Hoop Clip Earrings: These hot hoops have passion written all over them. Let them pop and sizzle with loosely pulled-back hair and a simple LBD or LWD. At Bergdorf Goodman for $365.
5) Sydney Evan Diamond Amour Necklace: Sure it's a little silly, but of course there has to be blatant jewel in honor of the cheesy holiday. For those who are in love with love! At Bergdorf Goodman for $1,150.