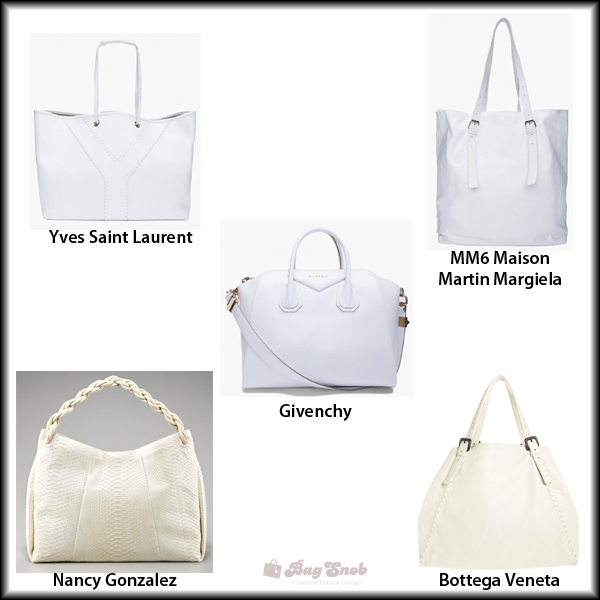 No white shoes after Labor Day? Nobody follows that rule anymore and I certainly don't follow any rules when it comes to bags – it's all about what my heart desires. And right now, my heart is stark-raving mad for stark-white bags.
There is no "off," "warm," or even "ivory" in these descriptions, so keep your hands clean and these babies of the floor! High-maintenance has never been so cool and refreshing – the care is worth the satisfaction of a powerfully crisp bag.
1) Yves Saint Laurent Large White Neo Tote: Pebbled texture lends depth to this sharp tote; bold whipstitching lends interest to their trademark "Y." On Ssense
for $1,495.
2) Givenchy White Medium Antigona Duffle Bag: Givenchy's quintessential duffle takes on a whole new meaning when it's in bright white. Gold hardware just enhances the effect. On Ssense
for $2,085.
3) MM6 Maison Martin Margiela White Reversible Tote: White cotton or white leather? If one side starts to look dingy, you can switch it over in between cleanings and start fresh. On Ssense
for $515.
4) Nancy Gonzalez Braid-Strap Python Tote: Pearlized python is gorgeous enough, but add a chunky braided strap and this tote is now over the edge of desirability. At Bergdorf Goodman
for $3,050.
5) Bottega Veneta Plume Tote: Bottega switches it up by keeping the weave to a minimum and letting solid white leather own the spotlight. At Barneys New York for $2,400.