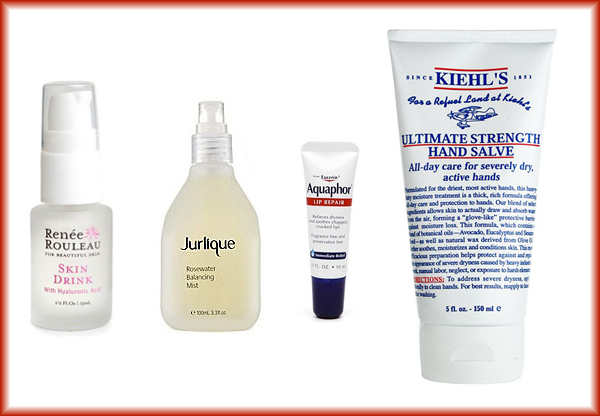 I have been non stop traveling since this year started. From Florence to Las Vegas to New York to Florida (and next month Cancun!), saying that my skin and everything else for that matter, is dehydrated is an understatement. I am completely tapped out!  While on a flight, I drink water like crazy, but I still need help from the outside in. Here are the items I always take on the airplane with me to ensure adequate hydration:
1) Renée Rouleau Skin Drink: Renée says that applying this non-greasy clear serum is the equivalent of drinking eight glasses of water (which sure beats the number of trips to the airplane mini-bathroom all that water would cause!). Skin Drink soaks right in and I can apply it repeatedly since it's grease-free. At Renée Rouleau for $35.50.
2) Jurlique Rosewater Balancing Mist: Before using Skin Drink, I spritz my face with this Rosewater Balancing Mist. The scent is calming and relaxing, making the flight a tad more enjoyable. I also appreciate its convenient size (1 oz., TSA-friendly). At Sephora for $31.
3) Aquaphor Lip Repair: Nothing beats the basic simplicity of this Lip Repair. "No cracked lips here" should be their slogan. On Drugstore.com for $4.29.
4) Kiehl's Ultimate Strength Hand Salve: A good hand salve is always my best friend, especially in the winter. So this is a must when I travel. I LOVE this hand cream above all others! It has a slight eucalyptus scent that makes me think it has medicinal qualities. And trust me, it's not all in my head – this works wonders and does not leave you with oily hands. At Nordstrom for $13 (for 2.5 oz) or $20 (for 5 oz). Definitely go for the larger size!