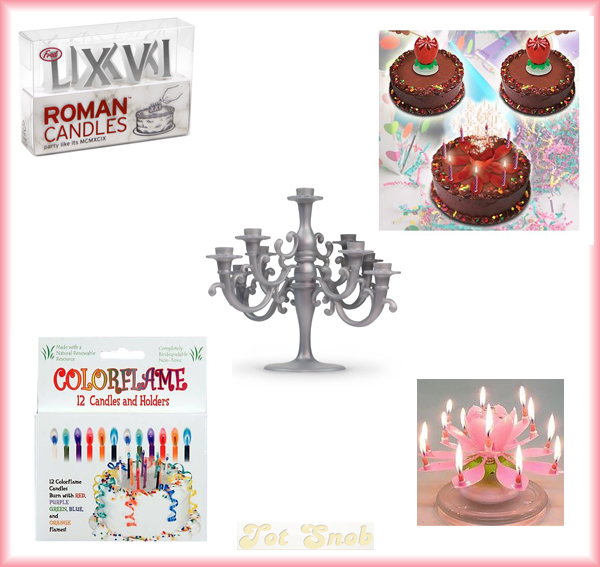 Candles are not just candles anymore. These inventive and fun options will dress up your cake, and even sing "Happy Birthday" to you! You may first want to start with Fred and Friends' Cake Candelabra ($7.48), a fabulous way to hold your candles – as long as you don't want more than nine! The silver-toned base of this 4" high and 5.5" diameter candleholder gives any birthday cake a classy look. And remember, if your tot is younger than nine, extras can be added for good luck.
Fred's Roman Candles Birthday Candles ($5.84) are actually just that – Roman numerals. Why not teach a little math lesson while celebrating the big day?
The seemingly magical Happy Birthday Candle ($4.60) adds song to fire. After lighting the wick, a large flame is lit in the center. As the petals start to fall down, it lights 14 smaller candles (and don't' worry, the petals catch the melting wax). Next, you hear the melody to "Happy Birthday!"
The Colorflame Birthday Candles ($6.52) come with colored flames that burn in five different colors: purple, orange, red, blue, and green. These unusual candles come 12 in a box.
Lastly, the Sparkling Musical Birthday Cake Toppers ($10) are 5" tall candles that have a central sparkler that lights smaller candles. Petals then unfold and the flower rotates and plays, "Happy Birthday!" I'm in birthday party planning mode and I can't decide which of these to get!