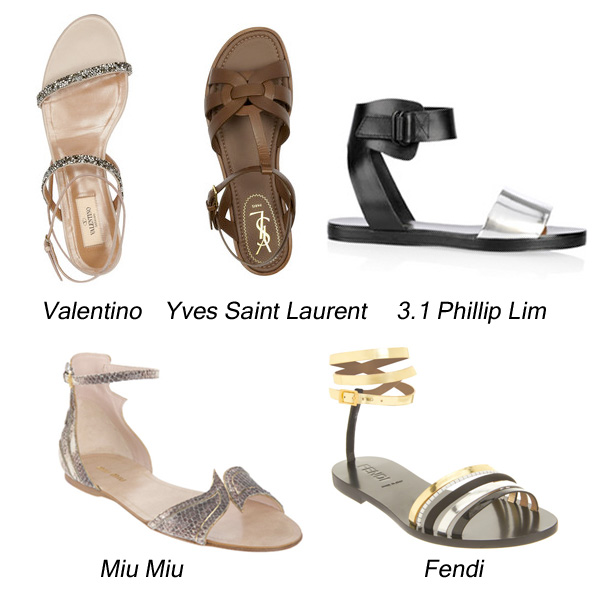 Though it is true a high heel is guaranteed to elevate any outfit, if your flat is nice enough, you simply won't be caught short. Choose one of these dazzling fancy flats and prove it's not just the heel that counts; these will glide you through the night (in comfort, no less) and even with your couture dress. Think about it: what's more modern than a woman dressed to the nines and confident enough to do it in flats?
1. Valentino Crystal-Embellished Leather Sandals: Valentino nailed earthy decadence this season, and these versatile flats will gleam with regality anytime of day.
On Net-a-Porter
for $745.
2. Yves Saint Laurent Tribute Leather Sandals: Tribute, we meet again! It's not just the most comfortable heel for miles – the refined gladiator style makes a no-brainer flat sandal.
On Net-a-Porter
for $695.
3. 3.1 Phillip Lim Domina Two-Tone Leather Sandals: Gaze into this mirrored reflection and you'll see high-shine is all it requires to take a shoe from easy to evening.
On Net-a-Porter
for $395.
4. Miu Miu Lizard Print Sandal: The fanciful shapes, the fantastical texture: this lizard-embossed leather oozes whimsy that has the right amount of playfulness.
At Barneys New York for $650.
5. Fendi Metallic Multi-Strap Sandal: Metal mania! Fendi has brilliant way with patent leather. In a creative array of luxe metals, this is an instant upgrade.
At Barneys New York for $560.