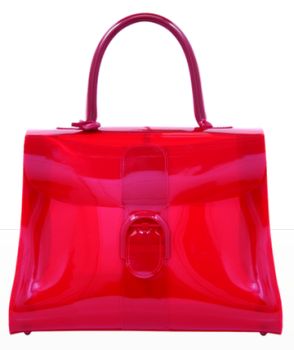 Summer doesn't just mean barbecues, bikinis, and highly frequent pedicures. It also means it is time to have a sense of humor about our precious bags. Hey, everyone was all about the jelly Birkin (until it got shut down, of course). Now the brand we have referred to as "understated chic at its very best" has presented us with a bag that is playful fun at its very best. So youthfully vivacious, in fact, we featured it among bags best suited for Lolita a couple months back.
Delvaux, with their 180-year-old history and uncompromising level of quality, commands the same legendary status as Hermès. So instead of it being cheesy, a jelly version just shows how the classics still are relevant. And candy-red vinyl in a polished, enduring style is just plain fun. I'm all for it while the time is right. At Barneys New York for $750.
Pair with: Take a hint from Tina's summer uniform and wear this with something just a tad ladylike – avoid looking like Lolita herself. Issa's ribbed knitted dress ($585) in bright white is just the thing.