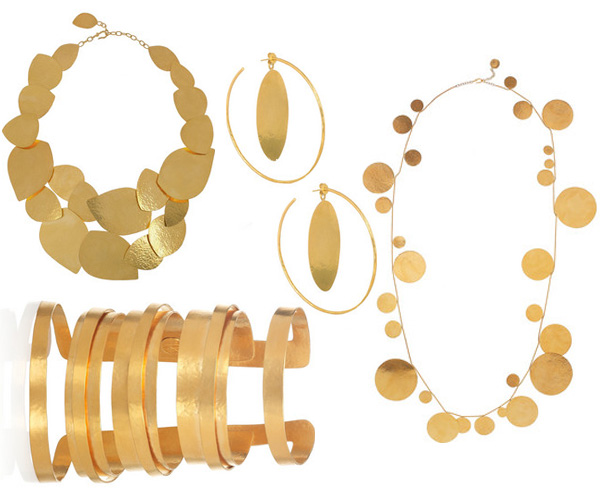 Hammered gold is timeless. Well, the rustic-cum-polished look might come in and out, but it will always comes back. Hervé Van Der Straeten's well-priced line makes a 24-karat collection a very good investment indeed. With a fully modernistic appeal, these baubles will never feel stale.
Basic hoops feel tired and played out? A curvy earring
($215) with a surprising leaf dangling from the center is flashy, in just the right way. Or go for good and plenty: the buds may just be blooming, but this leafy necklace ($1,025), with fallen layers cascading around your décolletage, is instantly festive. If harder geometry is more your thing, I'm loving the heavily stacked, cutout cuff ($805). It has the look of loaded-up bangles, but it's just plain easy in a single piece. The capricious – and enormous – disc necklace ($930) is a bit over the top, but with a maxi dress in bold print, it's the perfect for a real wow factor.
Available on Net-a-Porter.