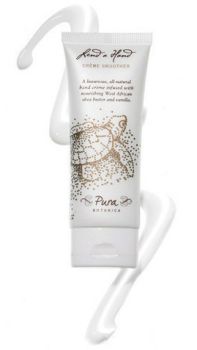 Yesterday, I received a sample of Pura Botanica's Lend a Hand lotion, and it has already become my favorite hand cream. The line is super-snobby; they use the highest quality ingredients, which ensure your beauty experience is as luxurious as possible.
This Crème Smoother boasts magical West African Shea butter nut. Not only does that have the highest possible concentration of oils, it's the third ingredient on the label list, which means there is a lot there. Most importantly, unlike other Shea butters, this one isn't oily (ironic, huh?). It just leaves your hands silky, matte, and so soft. Instantly, it feels like I just exfoliated. The cream stays on after a few washes, but the sensation is so amazing, I can't find the urge to keep applying anyway. Just a tiny dot is all you need; this stuff is potent.
Now I can't wait to try the brand's other products. They have aromatherapy bath salts –now they are really speaking my language! At Pura Botanica for $14.