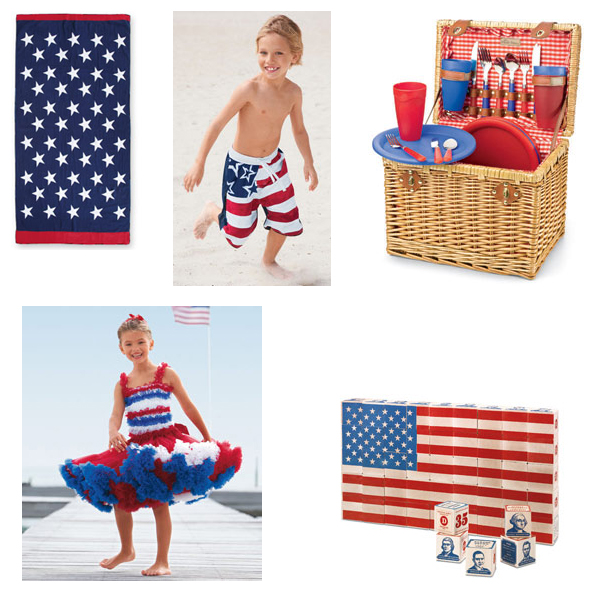 Our country's biggest celebration is upon us, so why not show your patriotism with fun and over-the-top exuberance? And once the party's over, the best perk about being a tot is that you can continue sporting any of these great items (especially the president blocks, a perfect learning tool for any time). The towel and swim trunk are summer essentials, and my favorites here. And there's nothing wrong with using this picnic basket after the fireworks have settled for all your special days outdoors.
All available on Chasing Fireflies.
1. Flag Towel ($38): What better way to wave in the 4th than with an "all-stars" red, white, and blue towel> You'll never have trouble finding your spot at the beach with this dynamic – and BIG – beach towel (at 34" x 68", it's super-cozy). They'll be seeing stars for miles.
2. American Flag Swim Trunks ($44): Sure, they're flag-print, but the design doesn't overdo the patriotic message. The stars are just off enough to not be overt, and the stripes evoke that French St. James look. Plus, a solid navy backside adds a hint of subtlety. Fun and sporty yet classy – people might think there's a yacht docked for your little one.
3. Family Picnic Basket ($59.99, from $80): A willow picnic basket lined in red gingham would inspire anyone to pack and go! And it comes with all you will need for a perfect picnic: plastic ware for four, stainless steel knives, tumbler glasses, and plates. All you have to do is supply the food! There's something about an old-fashioned woven basket that makes any picnic special. At this sale price, it's a no-brainer.
4. President Blocks ($98): How can you not love a set of blocks that form the American Flag and include all the U.S. presidents up to President Obama?! What a great way to learn history and practice architectural skills at the same time. Each block has the president's picture, order of presidency, and years served in office. These are great learning tools; the information sinks in by osmosis as your tot has fun building.
5. Patriotic Pettiskirt ($98): This not-so-subtle (yes, outrageous) concoction of red, white, and blue chiffon frills and puffs would steal the attention from Lady Liberty herself! If your little girl loves to be the center of attention, this wild and fun pettiskirt is right up her patriotic alley. If you're going to celebrate, why not really go for it?