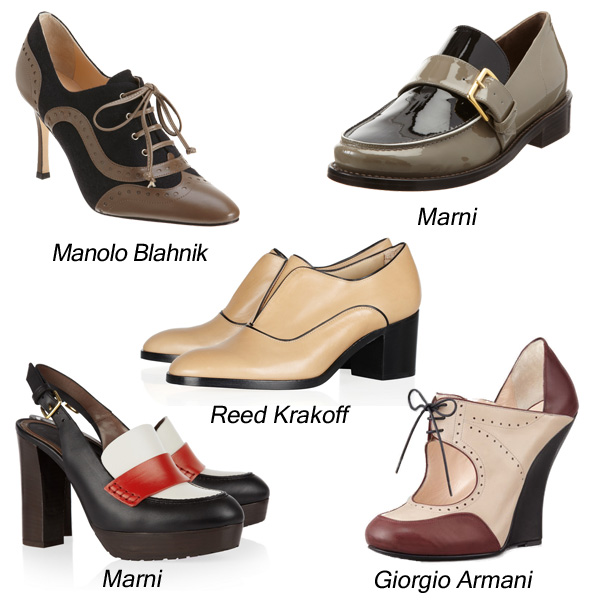 Come fall, I love nothing more than a pair of wide-leg trousers worn with an equally strong shoe. Especially when you see the combo on a feminine girl, for real contrast and the element of surprise. Brogues, spectators, loafers and oxfords: there's nothing new about these styles yet these top 5 picks are anything but old. Uncommon cuts, colors, and big reveals make these all woman.
1. Manolo Blahnik Darby: This oxford is lean and mean, more sexy editrix than refined gentleman. Not that these wouldn't look hot strewn across the couch of a smoky cigar lounge.
At Barneys New York for $895.
2. Marni Two-Tone Patent Loafer: School's in session, but these shiny, slightly chunky loafers are worthy of playing hooky for. Extra credit for wearing these with a bold trouser sock.
At Barneys New York for $650.
3. Reed Krakoff Oxford Leather Loafers: Minimal detailing can mean maximum sophistication, like on these streamlined, unburdened loafers which happily allow you to pile on the accessories elsewhere.
On Net-a-Porter
for $625.
4. Marni Tri-Tone Leather Slingbacks: Red, white, and black wins me over, thanks to Marni's witty way with contrasting colors. Plus, a slingback balances out the heft of this revamped loafer.
On Net-a-Porter
for $755.
5. Giorgio Armani Lace-Up Oxford Wedge: Highly modern cutouts and geometric lines make this angular spectator shoe a real spectacle. The cut of this ankle is so sexy, it might just demand a skirt.
At Neiman Marcus for $795.