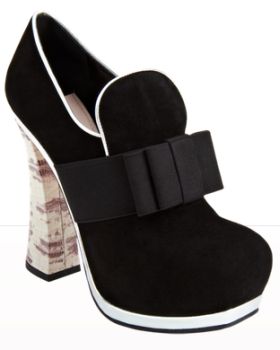 Somehow the words "platform," "loafer," and "pump" just don't do these babies justice. There is so much more at play that no normal shoe term can capture! Honestly, Miu Miu's cartoonish pilgrim pumps are so freaking cute. Like overly cute, as in designed for a wacky hybrid-character of Minnie Mouse and Madeline…with a little Gothic Lolita tossed in for some edge.
Clearly, you've got to have fun if you're sliding these on, although I wouldn't go all-out Harajuku with your outfit, or it will look like a joke (and so will you). Keep it crisp and smart, with say, a mod-inspired shift a la Victoria Beckham; think grown woman with a little girl's wink. Fortunately, Miu Miu – while embellishing on their über-playful aesthetic – has added some sophisticated touches. The block heel has a textured pattern, to prevent it from being completely childish, and the metallic piping also helps to allow for a bit of elegance. At Barneys New York for $895.
Pair with: Victoria, Victoria Beckham's piped-and-pleated cocoon mini-dress, in ivory jacquard, helps you walk that fine balance that says, "I'm not a girl, not yet a woman." On Net-a-Porter
for $775.