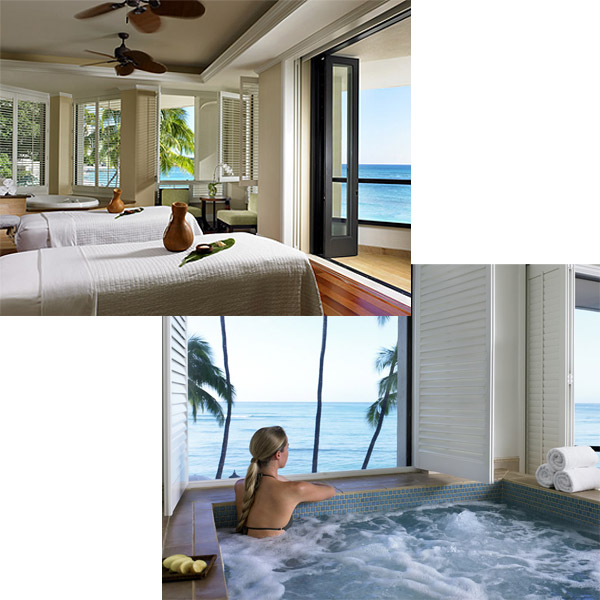 While in Hawaii, I escaped to the spa for the day. Escaped is probably the wrong word. It's not like I needed further relaxation, but considering it's the nicest spa on the island, I couldn't resist! Moana Lani opened four years ago when Westin bought the property. The owners converted a restaurant to create the scenic spa, appropriate since the resort is situated on a natural healing spring. It's on the second floor, so there is an ocean view from the lounge, spa wet area, and some of the treatment rooms. The Jacuzzi is in the corner of the building perched right above the beach, giving you a 180-degree view of the ocean (remember to wear a bathing suit since the tub can be seen from below!). The dry sauna has almost as good a view. My photo below is from when I was in the sauna. Wish I could have handled the heat a lot longer than I did!
I had an 80-minute deep tissue massage ($195) from Gilda, who was so wonderful with that loving Hawaiian spirit. She was genuinely concerned about my carpal tunnel (a work injury!), and gave me some tips on how to care for it. I felt nurtured and wholly rejuvenated after my experience. I had free reign of the spa for the day, but only a few short hours to spare. A reason to go back next time, right? There are bigger spas on Oahu, but bigger isn't necessarily better or more relaxing. The tranquility and personal care you get at Moana Lani is what a spa experience should be all about. I'm planning on spending next summer in Hawaii (fingers crossed!!), so I'll definitely be blocking out an entire day to go back next time!
To learn more about the spa services and to schedule an appointment, check out Moana Lani Spa.