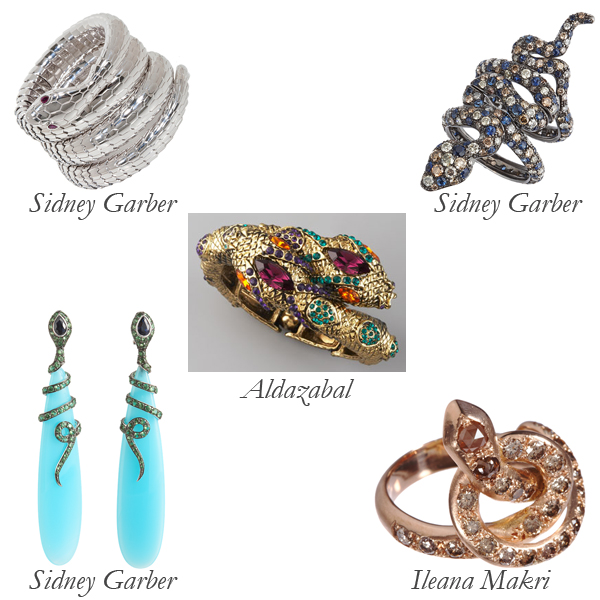 If you have a stressful job, one that has you lying with snakes, this is a sure way to fend them off! I have found that jewelry is very therapeutic. What you wear can be empowering, and there is definitely some mystical energy that emanates from precious stones (please don't try to debunk my theory – it will make me sad!). Shopping for jewelry is a sure way to make you happy and one with a sense of purpose, like overcoming evil! Well, the fun factor just goes up from there.
1. Sidney Garber Silver and Ruby Il Serpente Bracelet: Once this sterling silver bracelet slithers its way around your wrist, you'll never want it to let go.
At Barneys for $10,150.
2. Sidney Garber Magna Dea Ring: With this black rhodium-plated ring, you'll have them wrapped around your finger – literally!
At Barneys for $19,400.
3. Sidney Garber Azure Laguna: If you want to try a more subtle approach to the style, go with these blue agate drop earrings, connected to the posts with winding white gold and tsavorite.
At Barneys for $8,150.
4. Ileana Makri Berus Snake Ring: This 18k rose gold ring is decorated with champagne diamonds – perfect to toast to!
At Barneys for $5,650.
5. Aldazabal Snake Bracelet
: Adorned with jewel-toned Swarovski crystals, this chunky serpent bracelet will brighten your mood and your outfit.
At Neiman Marcus for $360.