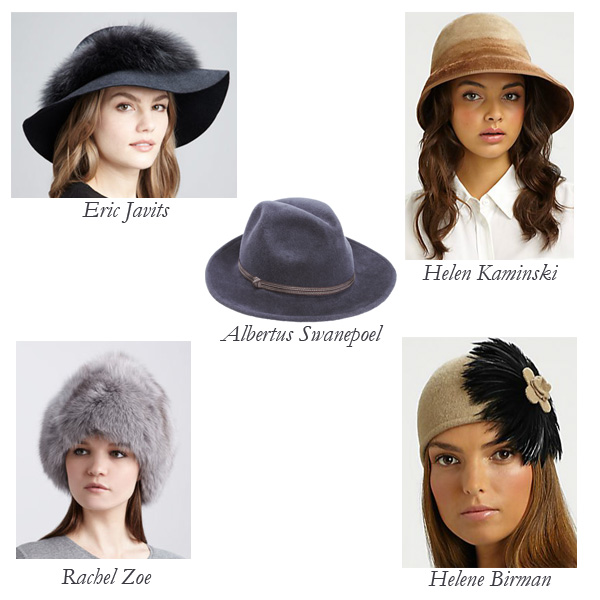 Not only are hats chic – they're an instant fix to achieve high glamour, even on bad hair days. Some of you may feel a bit self-conscious rocking headgear (I hear that a lot) but you have to just own it. As a true hat lover, I feel an extra pep in my step because in my mind I feel like I'm wearing some sort of crown. I can't wait for cold weather! Whether you're ready for a bold style or just want to stay warm, here are some of the best winter hats out there:
Eric Javits Samantha Fox Fur-Trimmed Velour Hat: This opulent wide brim decked out in fox fur was made for a glamour girl. Easy to throw on on any chilly day. At Neiman Marcus for $425.
Helen Kaminski Sybil Angora Felt Hat: This turn-up brim gives you just enough cover to seem come-hither. It's a hat for all time – you'll be cozying up to it for decades! At Saks Fifth Avenue for $325.
Albertus Swanepoel Cowboy Hat: Gone is the cowboy hat of yesterday! While the iconic shape remains, the felt makes this city-chic, and the grosgrain ribbon seals the deal. At Barneys New York for $350.
Rachel Zoe Fox Fur Hat: Feeling a little Dr. Zhivago? Of course Rachel Zoe has a fox fur hat, and of course you have to have one, too! Contrast with your hair color, blondes should choose black, otherwise you will appear to have crazy unruly hair. At Neiman Marcus for $850.
Helene Berman Knit Feather Hat: A glamorous beanie – I didn't think it was possible but here it is! Wear this feather topper for a Hollywood heyday vibe. At Saks Fifth Avenue for $98.