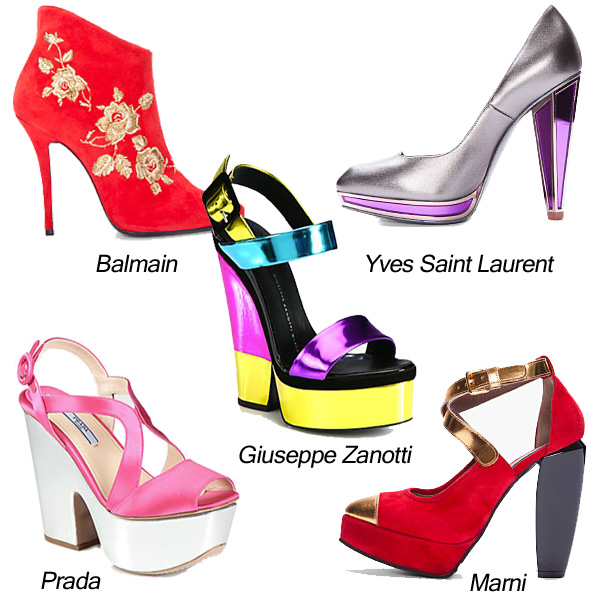 If you don't think metallics make a big enough statement, I hear you! Who cares how beautiful your shoes are if they go unnoticed. Take your shoes from wallflower status to dancing queen! If you add bold bright colors to metallic, you get heady heavy metal, and no one ever misses that. Whether you are looking for holiday rock, rock star, starship, or Barbie girl, here are the best metallic mashups:
Balmain Red Suede Floral Embroidered Anita Ankle Boot: The metallic is subtler here, but with full-coverage sensual red suede, a little gold embroidery is all you need!
On Ssense for $1,525.
Yves Saint Laurent Silver Mirrored Vanda Pump: If we ever end up moving to Mars, these are the shoes for the trip. Check out the purple mirrored prism heel – eat your heart out Judy Jetson! On Ssense for $1,095.
Giuseppe Zanotti Metallic Leather & Suede-Trimmed Platform Sandals: Catch the light on these multicolored mirrored ribbons and you'll give everyone disco fever. At Saks Fifth Avenue for $750.
Prada Satin & Metallic Leather Platform Sandals: Pretty in pink Prada! In these shiny white peep-toe sandals, who wouldn't want to play Barbie? At Saks Fifth Avenue for $790.
Marni Red Suede Platform Pumps: Lush red suede and metallic gold for the holidays. Don't wait to put these on your Christmas list – maximum seasonal wearage starts now! On Ssense for $830.