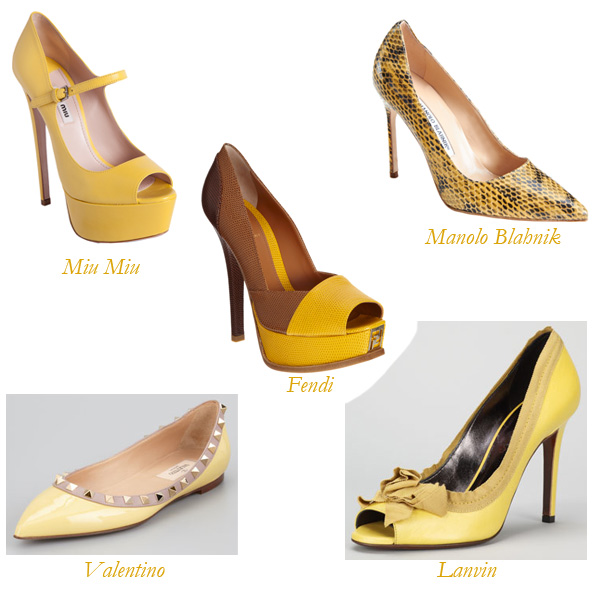 Yellow stimulates our brains so if you need a hump day pick-me-up, pick up a pair of surprisingly versatile and fun yellow shoes! My yellow Bottega Veneta sandals from SS12 have been my go to heels when I need a pop of color or contrast (even if it's just with a pair of jeans). Obviously, the shade goes well with brights like blues, greens, and reds, and if you go ultra vibrant yellow, it can even cheer up your camels, beiges, and dark browns. Take the sunshine right out of the sky and plant it on your feet!
1. Miu Miu Mary Jane Peep Toe Platform: I tend to think of yellow as a little innocent, especially on a Mary Jane. But turn up the brightness on a platform, and you've got a sexy stiletto. Be the sun the in the winter with these sky high Miu Mius!
Pre-order at Barneys New York for $690.
2. Manolo Blahnik Snakeskin BB: There are different rhymes about how to spot poisonous snakes, but I can never get them straight! Do you dare slip into these fierce pointed Manolos??
At Barneys New York for $865.
3. Fendi Fendista Pump: The tricolor on these pumps reminds me of a sunset, the perfect time to slip these on and dash out for happy hour. The tones will keep you grounded but the style is strictly naughty.
At Barneys New York for $830.
4. Lanvin Grosgrain-Trimmed Peep-Toe Pump: With green undertones, this Lanvin really is the color of Mellow Yellow – citrusy-sweet with none of the calories!
At Neiman Marcus for $795.
5. Valentino Rockstud Leather Ballerina Flat: Didn't want to leave the Flat Snobs hanging! What these Valentinos lack in height, they make up for in edgy studs.
At Neiman Marcus for $595.