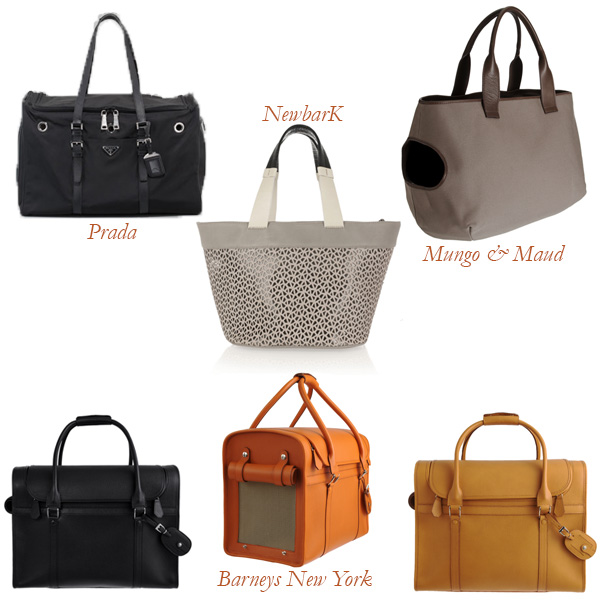 As much as we adore our four-legged buddies, taking them with us while we run errands or travel can be a nuisance. And it doesn't help that it's hard to find good options for tasteful dog carriers. I can't exactly take my pup snob to my fancy vet to the stars, Dr. Giles Willoughby (at the VCA hospital in West Hollywood, voted Best Vet in LA!) in a shabby crate. But I've sniffed out four worthy of your (and your canine's) snobby taste. With the holidays rapidly approaching, these make great gifts for a friend with a dog or for your own dog! With so much travel coming up, you need to think of your pup. "Thank you" comes in the form of unconditional love. And make sure to buy a size fit for the full grown version, I made the mistake and got one to fit my sweet Mochi as a tiny puppy (picture below). Yes, it's a Tiffany & Co. Bag!
1. Prada Nylon Dog Carrier: Black nylon is nothing revolutionary, but it's as easy to clean as it is discreet. Plus, this bag has got some retro-'90s Prada appeal (yes, it's been that long!).
At Neiman Marcus for $1,795.
2. Mungo & Maud Pod Bag: Complete with leather trim and rolled handles, this canvas tote is so smart yet nonchalant, no one will know you have a pooch in tow unless he barks. Plus, there's a clever opening, so he can catch some breeze in comfort.
At Barneys New York for $575.
3. Barneys New York Dog Carrier: Crisp, structured, and sophisticated, this grained leather bag looks like a lovely weekender and acts as a home away from home for your dog.
At Barneys New York for $1,995.
4. Newbark Laser-Cut Leather Tote: Techincally, Newbark's bag isn't a dog carrier, per se, so reserve this peek-a-boo for the snobbiest of pets. Carry it as a day bag for yourself, then remove the optional interior pouch so your dog can breathe.
On Net-a-Porter for $1,330.