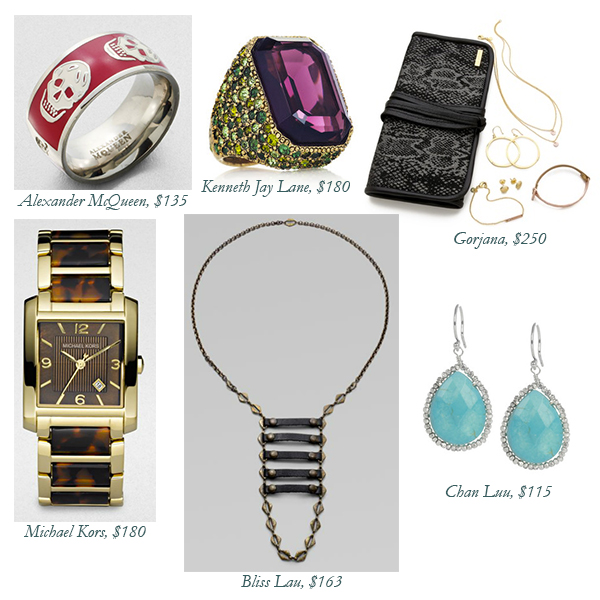 We're always looking for that gift that wows (like a set of 2 carat diamond earrings, right?). Diamonds may last forever, but a tight friendship is way more meaningful. These gifts are for the special people in your life who you want to wow even if your back account is a few dollars short of Oprah's (aren't ours all?). Each one is under $200, except the Gorjana gift set which for $250 includes every type of jewel a gal could want all rolled up in a jewelry case – now that's serious bang for your buck!
Alexander McQueen Skull Ring: For the punk rock queen or McQueen admirer in your life, a simple piece of skull-emblazoned luxury. At Saks Fifth Avenue for $135.
Michael Kors Tortoise Link Square Watch: Giving someone a watch can have a lot of meaning, but it's hard to find one at a good price – or at least it was 'til now! At Saks Fifth Avenue for $180.
Chan Luu Silver and Turquoise Earrings: Since turquoise is thought to possess healing qualities, you'll be giving your friend a gorgeous gift with significance and good will. On Net-a-Porter for $115.
Bliss Lau Instinct Antiqued Leather-Trimmed Bib Necklace: This sexy, urban chains and leather combo looks both modern and old world – a great piece to layer over a basic look for some extra oomph! At Saks Fifth Avenue for $163.
Kenneth Jay Lane 22-Karat Gold-Plated Swarovski Crystal Ring: Swarovski crystals decorate the edges of this massive cocktail ring to look like sparkling snakeskin. On Net-a-Porter for $180.
Gorjana Gorjana-a-Day Jewelry Set: Speaking of slithering reptiles, this snake-skin print jewelry roll comes complete with a five pieces (necklace, bracelets, earrings) – perfect for the procrastinating jetsetter. On ShopBop for $250.