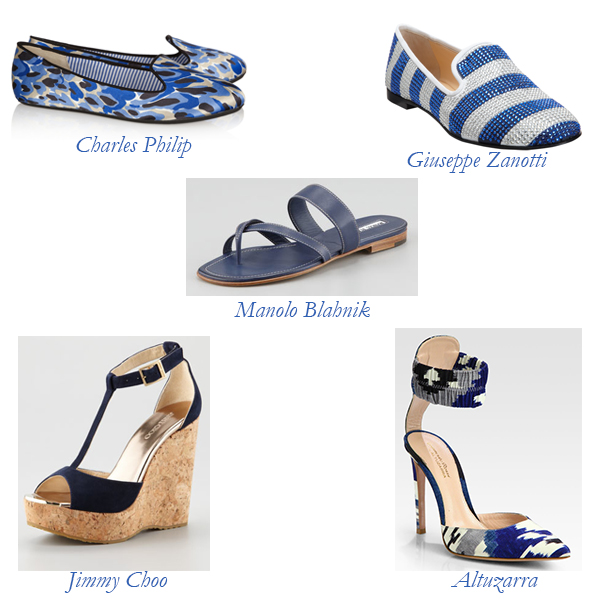 People who hate cruises just haven't done them right. I've taken tons of cruises around the world (still need to do a South America Patagonia one), and I promise, it's the absolute best way to see multiple cities in one trip without the hassle of constantly moving in and out of hotels. Plus, instead of having to don comfy travel clothes, you can dress to the nines on cruises! You can even try out the sailor look (couture style, of course). Try to avoid heels, though, especially if you're traveling through rough waters – wedges and flats will keep you high and dry. My next trip is a wine cruise to the Italian Riviera, which means I should really stick to flats if you get my drift. Can't wait!!
Jimmy Choo Pela Suede Cork Wedge Sandal: Cork wedges are warm weather favorites because they're nice and light, letting you bounce from deck to deck with ease. At Neiman Marcus for $475.
Atluzarra Ikat-Print Ankle Strap Pumps: A heel for a daring seafarer! The ankle straps will hold you in, but make sure to keep your first mate close at hand. The gorgeous ikat is worth the risk! At Saks Fifth Avenue for $680.
Manolo Blahnik Susa Flat Leather Sandal: Sensible Susa! These comfortable sandals are great to throw on for trips to the pool – they'll match any suit you have packed. At Neiman Marcus for $625.
Charles Philip Shanghai Sheila Leopard-Print Satin Loafers: Haven't you always wanted cozy slippers that you can wear in public? Smoking loafers are the glorious compromise, and CP is their reigning king. On Net-a-Porter for $135.
Giuseppe Zanotti Rhinestone Striped Slipper: Sailor stripes in rhinestones? They won't fly at the Naval Academy, but they'll sparkle out on your cruise deck! At Barneys New York for $1,295.