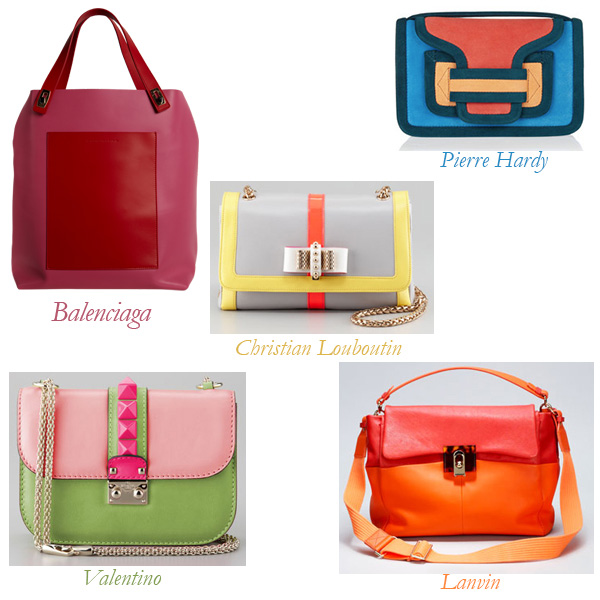 It's the perfect time of year to play Candyland, but when it comes to these delicious bags, you really want to be saving them for spring. The whimsy of candy colors in unapologetic combos projects so much optimism and joy, it's totally worth being forced to overthink what you'll can wear with them (without looking like a clown). From Poprocks to Jolly Ranchers, Starburst, Skittles, gummy bears, and beyond, here are the best ways to get your sugar high:
1. Valentino Glam Lock Small Bag: Ice cream shop hues, like strawberry and bright pistachio, look extra yummy when they're accompanied by Valentino's rockstuds! Available for pre-order at Neiman Marcus for $2,195 (expected to ship by April 8th).
2. Christian Louboutin Sweet Charity Fluorescent Shoulder Bag: Surprisingly, citrus flavors (in patent, no less) are much sweeter when they're contrasted against something subdued, like dove-gray leather. At Neiman Marcus for $1,595.
3. Lanvin For Me Medium Bag: I kind of flip-flopped on this bag, at first. One minute, I hated it and the next minute, I bought it, but the final verdict is: LOVE. It's just as easy a crossbody as it is a shoulder bag, the soft slouchy leather is divine, and the back pocket for the phone is icing on the cake (mine is hot pink). Available for pre-order at Neiman Marcus for $1,575 (expect delivery by February 22nd).
4. Balenciaga Pocket Tote M: I believe M stands for mmm when it comes to this impeccably clashed tote. Breaking color rules is a yes in my book, especially when it comes to an everyday tote. Extra pocket on the front equals extra points. At Barneys New York
for $1,345.
5. Pierre Hardy Color-Block Suede Shoulder Bag: Looks like the gumball machine has struck gold, at least in terms of gutsy color combos. At once bold, bright, and ever-so slightly muted, for a vibe that's happily out there, not hysterically outlandish. On Net-a-Porter
for $795.