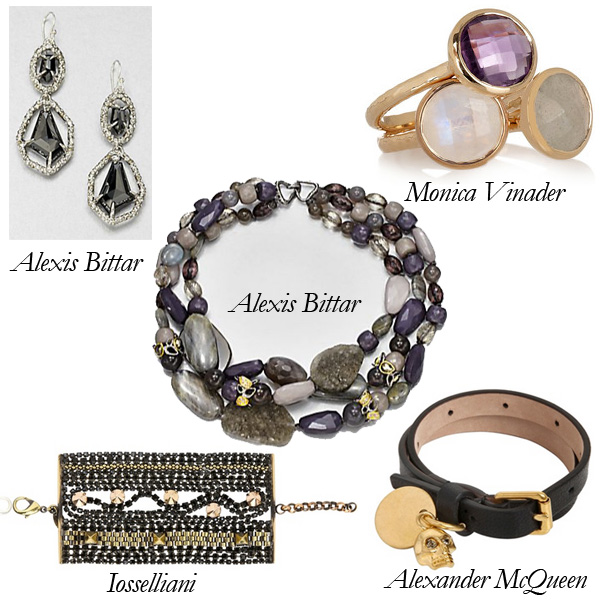 We all have a few go-to jewels that we know match everything – they probably include some sort of mix of diamonds, a watch, and a ring. But when you have the time, it's much more fun to make up daring combinations! Chunky stones and leather are great for creating a more casual (and Frugal Snob friendly) look. Here are some jewels I would throw together to go out to play in:
Alexis Bittar Triple-Strand Multi-Gemstone Necklace: A mix of colors and textures make this a statement necklace, but the addition of crystals is what makes is a bold statement. At Saks Fifth Avenue for $455.
Alexis Bittar Semi-Precious Multi-Stone Double Drop Earrings: More Swarovksi crystal embellishments! I love that Alexis Bittar is actually affordable, so why not layer on some more? At Saks Fifth Avenue for $255.
Alexander McQueen Skull Charm Leather Bracelet: Enough with stones, let's get a sleek strip of leather in here – it's always good for a rock and roll vibe and so are McQueen skulls! On Luisa via Roma for $245.
Iosselliani Deco Large Bracelet: I like having a lot of jewels on my wrist – the mixing is fun! These black and gold stones will sidle up nicely next to your hard rock leather cuff. On Luisa via Roma for $547.
Monica Vinader Set of Three Mini Luna 18-Karat Gold-Vermeil Stacking Rings: The Three Musketeers of rings – you can wear each one individually, but while we're going all out with the jewels and the colors happen to be perfect, why not just stack these together, too? On Net-a-Porter for $360.