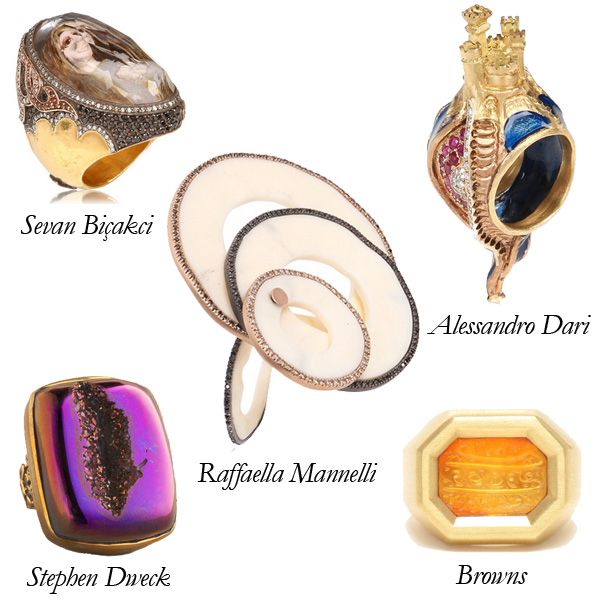 With all of the parties penciled in on your calendar, you're going to want a few special cocktail rings! It's good to have small talk topics ready in your back pocket (or in this case, on your hand!) – preferably ones that do not revolve around the weather. Even the most boring parties can be brought to life with conversation starters, and these super unique pieces will give you just the start you need for a great night.
Sevan Bicakci Amethyst Ring: A little spooky, this cocktail ring's central amethyst gem contains a mini portrait designed by Turkish jeweler Sevan, known in his field as the "Lord of the Rings." On Luisa via Roma for $22,529.
Alessandro Dari Firenze Alchemica Ring: Haven't you always wanted your own castle?? This one even comes with a pedestal to display the ring on when you're not wearing it. On Luisa via Roma for $17,029.
Raffaella Mannelli Bachelite Rotating Disks Flat Ring: An interactive ring (the three Bakelite disks really do rotate!) that's perfect for grown-up fun. On Luisa via Roma for $9,461.
Stephen Dweck Druzy Agate Ring: Most cocktail rings are distinguished by one big gem, and while this ring is no exception, it separates itself from the pack with a unique peek into a vibrant agate. At Neiman Marcus for $345.
IBU 18K Yellow Gold and Carnelian Octagon Ring: Ancient Persian carnelian engraved with Arabic – would be pretty awesome if someone at the party spoke Arabic, but it'll impress either way. Inquire at Browns for pricing and availability.