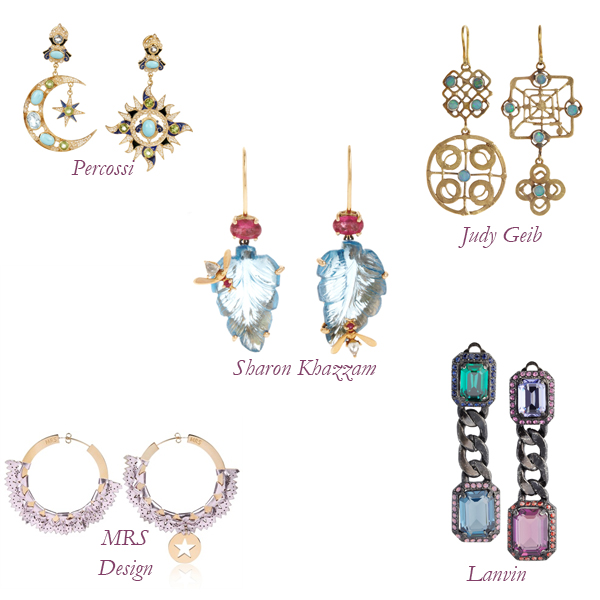 Asymmetrical earrings normally feel like a funky '80s throwback, but these mismatched duos are contemporary chic! No long chain and stud contrast – these jewels have subtler differences (there's a harmony in the contrasts). Just enough of a change from ear to ear to catch people's attention. I mean, you have 2 different ears, why not give each their own personality?
Percossi Papi Gold-Plated Turquoise, Peridot and Topaz Earrings
: I love these amazingly spectacular gypsy inspired sun and moon earrings. They make the perfect pairing even if they are completely different. Of course, they are already sold out! On Net-a-Porter for $1,255.
Judy Geib Opal Wheel Earrings: Judy Geib is the queen of mismatched earrings! I like that these designs look like little maps – opals mark the spot! At Barneys New York for $2,225.
Lanvin Tutti Frutti Swarovski Crystal Clip Earrings
: Distressed gunmetal chain links are juxtaposed against bright Swarovksi crystals on these fun clip-ons! On Net-a-Porter for $850.
MRS Design Laser Cut Leather and Brass Earrings
: Light-colored leather trims these hoops, giving them some fresh flair. On Luisa via Roma for $159.
Sharon Khazzam Ruby Bee Leaf Earrings: Bees are normally something I avoid, but on these Sharon Khazzam's I'm buzzing to a different tune. At Barneys New York for $7,200.