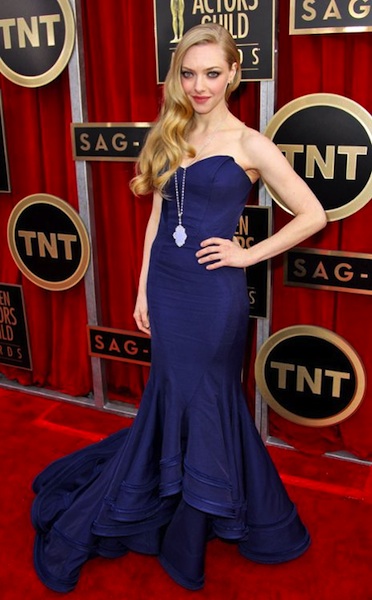 Seeing Amanda Seyfried accessorize her gorgeous Zac Posen gown with a long Lorraine Schwartz pendant necklace was such a refreshing, interesting style choice. The Les Mis star went with a pretty minimal look, and I don't think it would have worked without the diamond and lavender jade art deco-inspired bauble. We're not used to seeing pendants in formal settings, and that was the genius of it! Here are some picks for you to try at out your next big event:
Eva Fehren Lapis & Diamond Cigarette Pendant Necklace: I'm not one for cigarettes, but this cigarette-slim lapis pendant – definitely. Blackened white gold is perfect up against the speckled blue. Exclusively at Barneys New York for $5,775.
Finn Onyx Heart Pendant Necklace: This heart necklace is a black onyx beauty from the front, but be sure to wear your hair up, so everyone can get a peek at the adorable arrow-shaped closure, too. At Barneys New York for $1,300.
Renee Lewis Diamond-Rimmed Shake Pendant Necklace: A true conversation starter, this diamond-trimmed piece is filled with even more gems! You'll be shaking it around like a curious tot with no shame whatsoever. At Barneys New York for $15,600.
Fabrizio Riva Brown Diamond Heart Pendant Necklace: This brown diamond Fabrizio Riva is great if you want to stick with something small – you could even layer it with other necklaces. At Barneys New York for $875.
Stone Paris Apsara Gold and Diamonds Necklace: I saved the best for last! Obviously, all of the pieces are beautiful, but if you want mega-watt shine like Amanda had, this diamond design is it. On Luisa via Roma for $6,938.