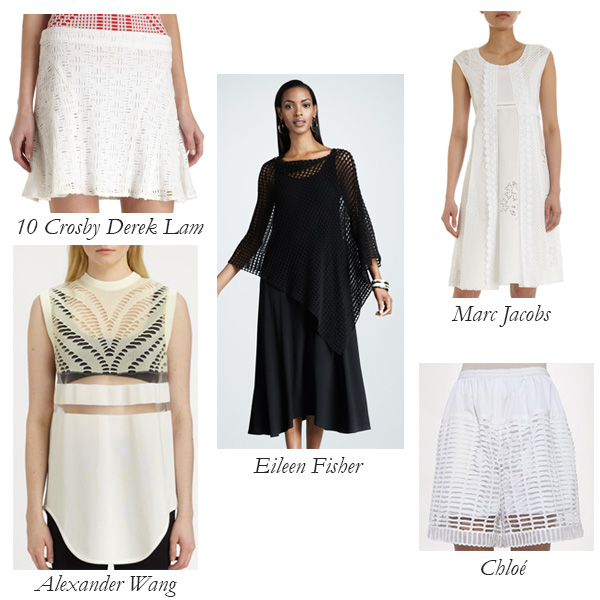 The time for showing skin (and not freezing to death doing it) has come. These ladylike eyelets, mesh panels, and generally perforated pieces are here to do a little subtle seducing. The fact is, most of these clothes are downright adorable – crisp, clean whites with floral embroidery. But there are some good girl gone bad designs (I'm looking at you, Alex Wang!), too, if you keep your eyelets peeled.
Chloé Birdcage Macramé Shorts: Sometimes it's nice to be caged, as evidenced by these sweet, yet showy shorts. Perfect for enjoying the summer breeze on a day at the beach. At Saks Fifth Avenue for $1,995.
Alexander Wang Mesh-Trim Glow-in-the-Dark Eyelet Tank: Between the sexy eyelets and the glow in the dark fabric, this shirt was clearly made for a night out dancing. At Saks Fifth Avenue for $1,095.
10 Crosby Derek Lam Eyelet Tulip Skirt: This is the quintessential white spring skirt – a delicate way to ease back into leg-baring temperatures and the 5-inch sandals that accompany them. Pre-order at Barneys New York for $395.
Marc Jacobs Eyelet Dress: With its floral embellishments, this dress is entirely too cute. Pair with cork wedges to keep up the girl next door vibe or take it downtown with some black moto boots. At Barney New York for $1,600.
Eileen Fisher Sheer Mesh Poncho: Unless you're up in the mountains, bulky winter ponchos have no place in the fashion world come springtime. But don't leave the style behind – just go sheer. At Nordstrom for $86 (from $248).