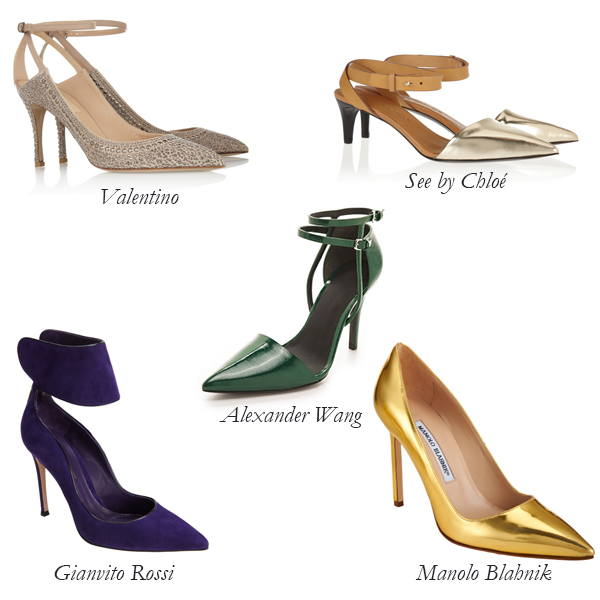 Manolo never left them behind, but pointy shoes are making a big comeback. They're a staple now really, with rounded toes starting to look out of place and outdated even. One of my favorite things about pointed toes is that their edgy, modern aesthetic allows for a shorter heel without looking overly sensible. The sharp tip is so dangerously stylish it could get away with murder. Here are my top 5 pointers this season:
Valentino Crystal-Studded Suede Pumps: The point of impact on these Valentinos comes crystal-coated. With the sleek, snug ankle straps, they'd be perfect for a night of dancing. On NET-A-PORTER for $995.
See by Chloé Metallic Leather Sandals: This is exactly what I mean – no one would call these shoes sensible and boring, but they are super comfortable! A delicate balance has been struck thanks to the dramatic metallic point. On NET-A-PORTER for $295.
Alexander Wang Emma Ankle Strap Pumps: Of course, Alexander Wang had this trend dialed in since day one. Vine-colored patent leather that vines around your ankles twice for double the style. On Shopbop for $545.
Gianvito Rossi Ankle Wrap Pump: This Purple Rain pump is the kind of shoe that demands attention. Wear them with a mini dress to show off the flared ankle straps. At Barneys New York for $865.
Manolo Blahnik Specchio BB: Be a Golden Girl in Manolo's sexy mirrored leather pumps. Their classic silhouette gets modernized with a coat of metallic sheen. Exclusively at Barneys New York for $595.