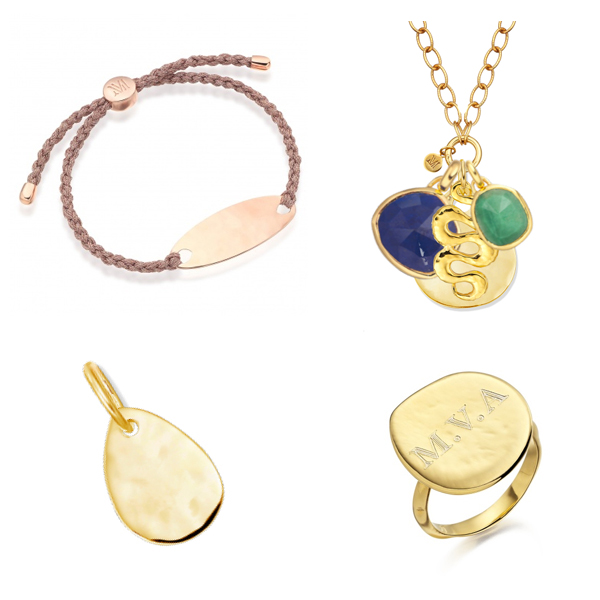 The best jewelry is personal, and Monica Vinader really encourages this belief by allowing you to not only engrave some of their pieces but to actually create your own necklace with a wide variety of pendant options. The attention to detail is truly stunning, and yet the prices are still so great. Even the quality of the packaging is impressive. The presentation is pure luxury from the moment you see it to the act of opening the felt-lined box. Now I have the best gift ideas for those hard to buy for friends! Available at Monica Vinader.
Ava Friendship Bracelet in 18ct Rose Gold Plated Vermeil on Sterling Silver ($165): They sent this bracelet to me for my birthday, and I absolutely love it. It's engraved with my kids' names, so the piece is very special. How could you have a more sentimental gift than this? They even offer the option of adding your own doodle by uploading a file of it.
Ava Mini Teardrop Pendant in 18ct Gold Plated Vermeil on Sterling Silver ($70): A pendant is very versatile – you can transfer it between necklaces and bracelets with one simple quick change.
Siren Plain Engravable Ring in 18ct Gold Plated Vermeil on Sterling Silver ($200): There's something very classic about a monogrammed ring, and this high-shine, lightly hammered surface is perfect for showcasing those special initals.
Create Your Own Necklace or Bracelet: With this, you get to choose your own chain and pendants, some of which are engravable. The one above is my own creation (it was $800 for my particular combo). These are so fun to make, and with amazing photo representations of what your creation will look like, there's no guess work involved – you know it will come out exactly as you imagine.