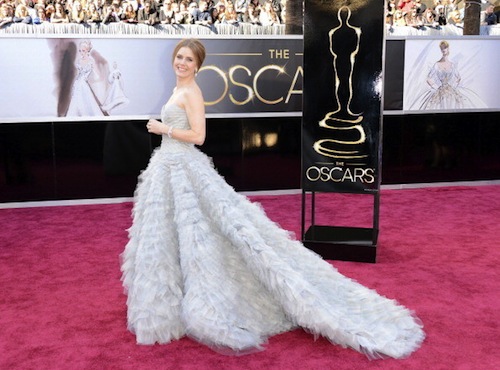 On the whole, the fashion at last night's Oscars was very safe and boring, but it's been that way for years. We all miss Björk's swan dress now and wish we hadn't been so hard on her. As a punishment, we just have to accept that gowns will be only beautiful and elegant, and expect nothing noteworthy or exciting to come along down that long red carpet. For instance, the Oscar de la Renta princess dress that Amy Adams wore is completely conventional (but admittedly lovely). I would've liked to see more color – and that goes all around – especially since the pale blue looked kind of gray on TV. With the sweeping train and tiered ruffles, it was like she was going for a more tasteful version of her as Princess Giselle in Enchanted (my favorite movie of hers!).

Zoe Saldana x Alexis Mabille: She was the only one who took any risk, and this wasn't even that risky. Appliqué flowers gave Zoe's perfectly sculpted body an even greater silhouette, and the belt brought a bit of edge to keep it from being overly romantic. My one issue – the layered hem seemed like part of an entirely different dress. I would have preferred something subtler like an ombre (a style that she rocked a few years ago on that divisive purple Givenchy).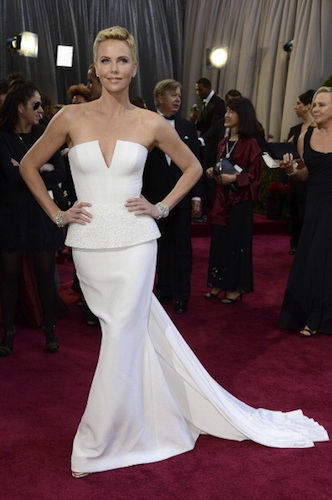 Charlize Theron x Dior: A goddess – and a pretty awesome dancer, it turns out. Charlize can do no wrong. This sharp, sleek Dior with a crystal peplum was exactly what her new pixie cut needed (and to think, this was only 3 months grown out!). Everything was minimal down to her lack of jewels and nude lips. She is one of the few women who can showcase just her face and still be flawless, so why wouldn't she?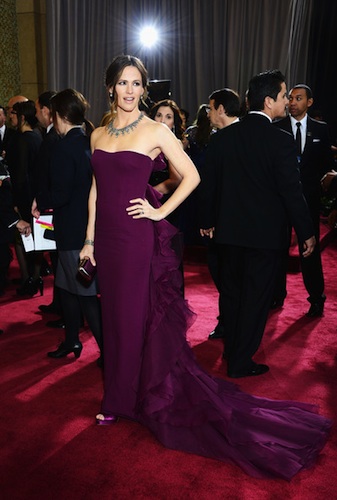 Jennifer Garner x Gucci: This gown was all about the plentiful ruffles cascading down the back. The wine color highlighted her milky rosy complexion so well, but her best accessory was that smile she flashed whenever looking at Ben Affleck (I know I would have a perpetual grin slapped on if I had that face to look at all day!). She kept her hair loose, like she had just come from a play date with her kids and threw on the dress on her way out the door. Effortless is the ultimate chic.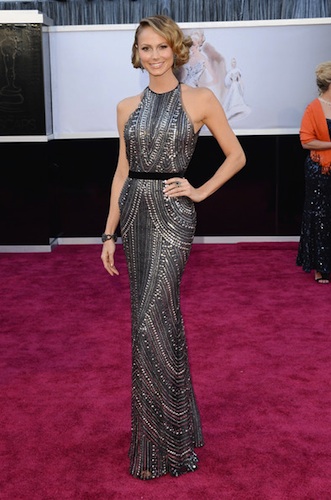 Stacey Kiebler x Naeem Khan: We can be honest, right? Stacy's only job is to look good as Clooney's arm candy, and as usual, she did a fine job at it. Last year she dazzled us in gold Marchesa, and this time around, the former pro-wrestler kept the metallic theme going in always showy Naeem Khan. I love that her hair was styled like something from Hollywood's golden age – it fit in perfectly with her all-over gilded look.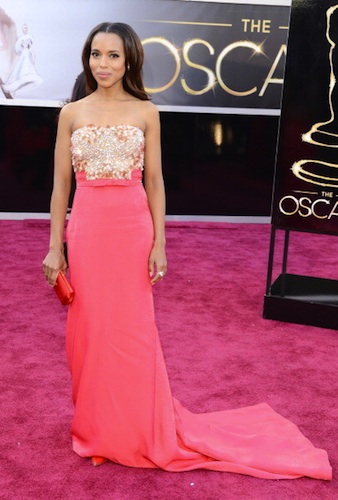 Kerry Washington x Miu Miu: Thank you, Kerry – finally some color! The crystal and paillette embellished bustier was a fun, girly look for Scandal's all too serious Olivia Pope. And she nailed the hair, too, wisely brushing her bangs to the side to avoid a knock-down, drag-out fight between them and the gown's straight neckline.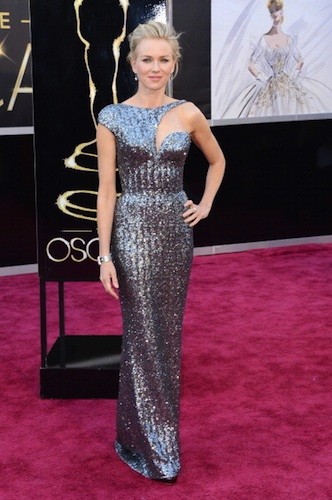 Naomi Watts x Armani Privé: This was somewhat out there, but I'm really just grasping for straws now. She began the design process with the Armani team all the way back during the Golden Globes. So the bodice was engineered to fit her perfectly and that it did. But the best part about it is the robotic, futuristic sense it gives you. The asymmetry could have easily gone wrong, but a petite frame like Naomi's was just the canvas this dress needed to be displayed on.