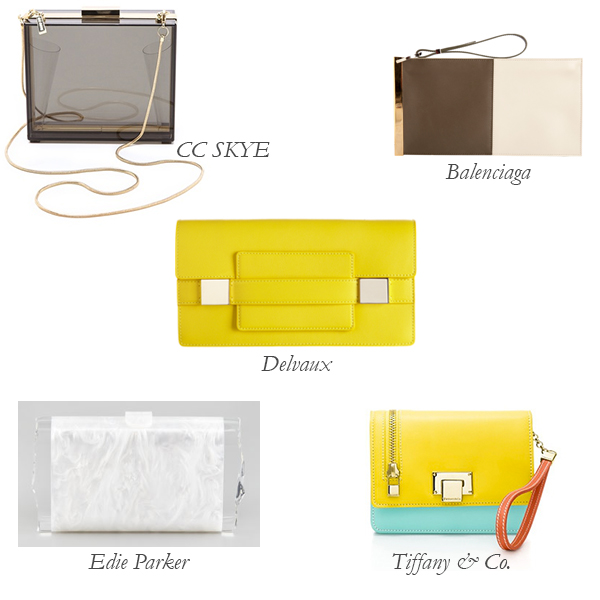 Are we there yet? Like a little kid whining in the backseat of the car, I've already got my eyes on the next phase: I'm ready for summertime bags. When it comes to a hot-weather clutch, you don't want anything heavily beaded or trimmed in bulky skins. Let's lighten up, people. Think easy, effortless, and fun, like this eclectic array of clutches, from the cool as ice to the hot as the sun.
1. CC SKYE The Sunset Boulevard Clutch
: The sheer and clear trend isn't slowing down, and seductively dark Lucite makes for the right combination of mystery and translucence. On Shopbop for $275.
2. Balenciaga Pocket Mail: Off-white and olive are two staples when it comes to summery neutrals. This is colorblocking at its most classic, and the strip of gold adds a touch of opulence. Available for pre-order at Barneys New York for $645 (expect delivery in March).
3. Delvaux Madame Pouchette: Bright, vibrant yellow: need I say more? Oh, and it's Delvaux, for a slice of tailored, sunny perfection. At Barneys New York for $1,710.
4. Edie Parker Lara Acrylic Ice Clutch: When your heat needs cooling off, ice is the answer. Edie Parker's Ice clutch, to be exact. When the humidity hits a new high, this is a breath of fresh, cold air. Available for pre-order at Neiman Marcus for $895 (expect delivery by March 4th). Octavia Spencer wore a version of this clutch to the Oscars yesterday!
5. Tiffany & Co. Wrist Pochette: Small and sweet as can be, this baby bag shows high energy comes in petite packages. The off-kilter zipper makes for a standout detail. At Tiffany & Co. for $595.