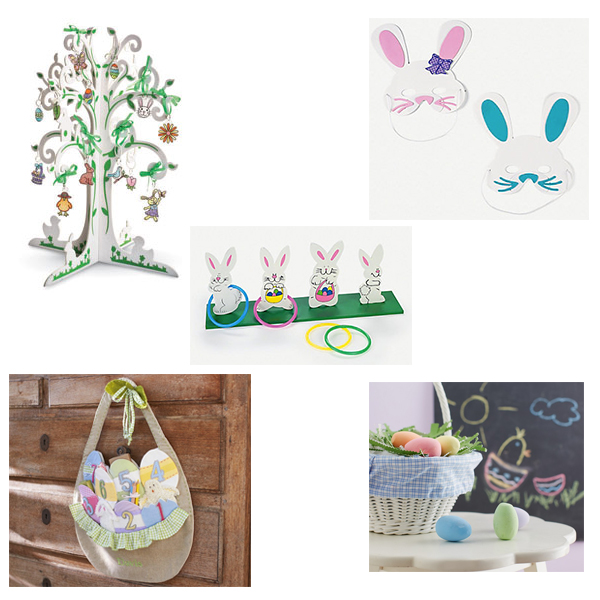 It's important to teach your boys that Easter is about more than what they get in their baskets. One of the best parts of the holiday is spending time with the family, and I'm not just talking about on the actual day. There are countless opportunities to get everyone together leading up to Easter, so here is a variety of crafts and games to do in preparation of the Bunny's arrival:
Shrinky Dinks Easter Tree: The best holiday decorations are the ones that you make. Your tots will have tons of fun coloring and baking (they shrink in the oven!) these ornaments, then decorating the tree, much like on another kid favorite holiday…On Chasing Fireflies for $18.
Bunny Ring Toss Game: Hyperactive little boys love competition, so this easy ring toss game will keep them distracted while you're cooking up the family dinner. On Oriental Trading for $10.
Bunny Mask Craft Kit: All you need to do to create these masks (a dozen come in the pack) is adhere the self-adhesive pieces, but challenge your tots to make the designs a little more elaborate. On Oriental Trading for $7.25.
Pottery Barn Kids Egg Chalk: Fill their Easter baskets with something that will feed creativity, instead of cavities. After they've found all of their Easter goodies outside, walk over to the driveway and egg a sketch! At Pottery Barn Kids for $9.
Pottery Barn Kids Easter Egg Countdown: If you have the kind of tots who look forward to holidays far in advance, then make the waiting fun with this cute countdown. In the week before Easter, you can give them special little treats each day. At Pottery Barn Kids for $34.99 (from $59).