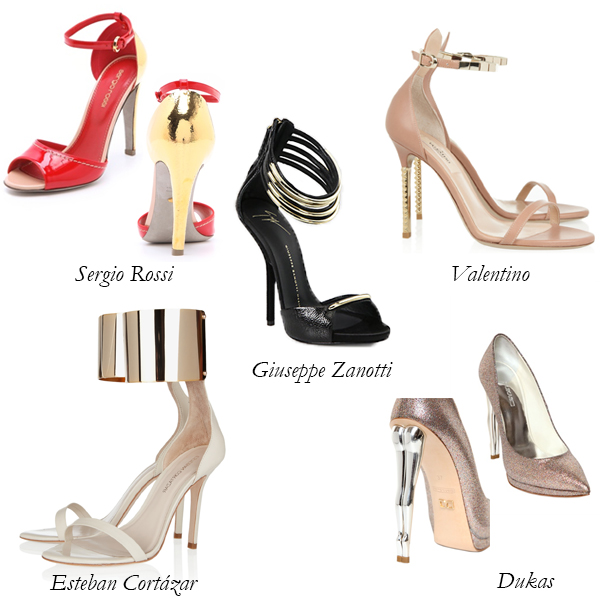 Bored of studs but still want heavy metal hardware? You're not alone. From flats to heels we're putting the metal to the pedal with metal plates and accents on shoes that could easily double as weapons (used only in self-defense, of course). Whether they're tall or small, these shoes turn heads by being a step ahead of the rest. Pair them with Maison Martin Margiela's curved mirror clutch (on NET-A-PORTER for $1,345) for a look worthy of battle.
Giuseppe Zanotti Reptile-Print Leather Metal Ankle Strap Sandals: It would be remiss not to mention Zanotti multiple times in these lists. Metal appears on so many of his shoes this season, but he has far from cornered the market. At Saks Fifth Avenue for $1,350.
Valentino Embellished Leather Sandals: Valentino is also plating his pieces, albeit more often in the back than in the front (I guess it just depends on whether you'd like your hardware to be upfront or behind the seams). On NET-A-PORTER for $995.
Sergio Rossi Leather Sandals with Metal Heel: We're seeing a lot of high polish, sleek metal heels, so Rossi's hammered style stands out from the already unique crowd. On Shopbop for $995.
Esteban Cortazar Metal Ankle-Cuff Leather Sandals: Cortazar takes metal to new heights with his sexy ankle cuffs. Unfortunately they've sold out, but how could I exclude them?? On NET-A-PORTER for $755.
Dukas 130MM Glitter Doll Heel Pumps: The design of Dukas's doll heel pumps is like a cheeky (literally) reference to the famous leg lamp from A Christmas Story. Love them or hate them, the shoes are conversation-starters, especially in mirrored metal. On Luisa via Roma for $807.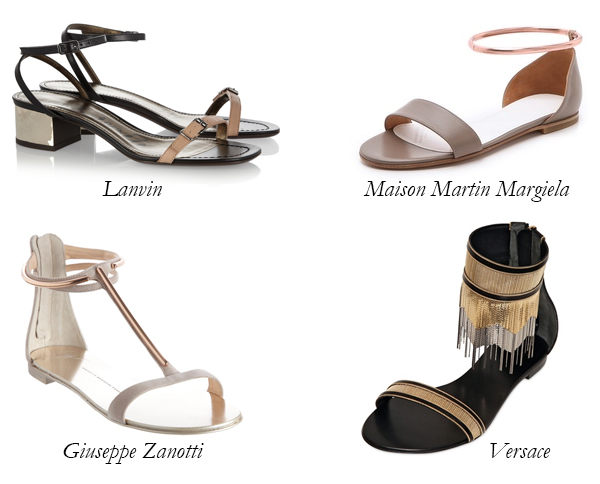 Giuseppe Zanotti Metal T-Strap Sandal: All it takes to elevate the flat is a simple striking detail. At Barneys New York for $850.
Lanvin Leather Sandals: Bring these on a sunny vacation to the tropics and you might blind anyone tailing you, but at least you caught their attention, right? On NET-A-PORTER for $795.
Versace 10MM Metal Fringe Leather Flats: Roaring Twentie's style fringe gets a modern update on flats that would look just a great with a bikini as they would with a summer dress. On Luisa via Roma for $1,437.
Maison Martin Margiela Sandal with Metal Ring: I wouldn't stay out in the sun too long in these red-hot cuffs for fear they would start to feel just as scalding, but as long as you're not lounging on the beach all day, the subtly seductive rings will make you the coolest Snob in sight. On Shopbop for $670.