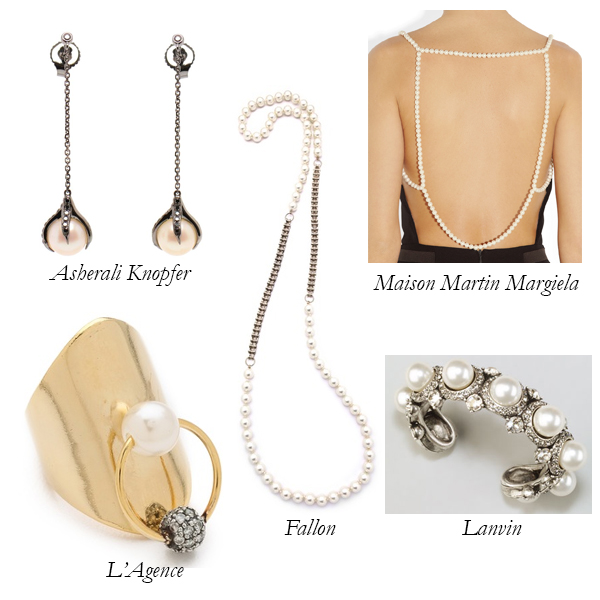 Wearing pearls in the summer is as natural as the sun shining in the sky. But these aren't your grandmother's pearls. Say goodbye to her simple strand because the precious by-product of my favorite appetizer on a half shell has given new life and a dash of edge with these alternative designs. Tell all of your friends to expect the unexpected this summer because you'll be serving up pearls on new, fresher dishes.
L'Agence Large Door Knocker Ring: You don't see a lot of pearl rings to begin with, but style it after a door knocker and it's definitely a standout piece. You always want to make a statement with your ring. No solitary pearl would do! On Shopbop for $300.
Fallon Classique Long Pearl Necklace: Fallon never does anything by the book – this is a classic style with a twist. Most pearl necklaces age you, so this bike chain detailing was just what was need for a more youthful look. On Shopbop for $176.
Lanvin Pearl & Crystal Cuff: Don't even bother stacking cuffs when you have one this abundantly bejeweled! It will bring substance to even the most flouncy of dresses. At Bergdorf Goodman for $780.
Asherali Knopfer Bird Claw Black Gold and Diamond Earrings: When you need to redefine the refined pearl, there's nothing fiercer than black diamonds and claws to get the job done right. On Browns for $1,325.
Maison Martin Margiela Faux Pearl Back Chain: This is Jennifer Lawrence's Oscar look times a thousand! Wear this with your favorite backless number for a style that will have everyone intrigued by the front view and awed by the back. On NET-A-PORTER for $935.