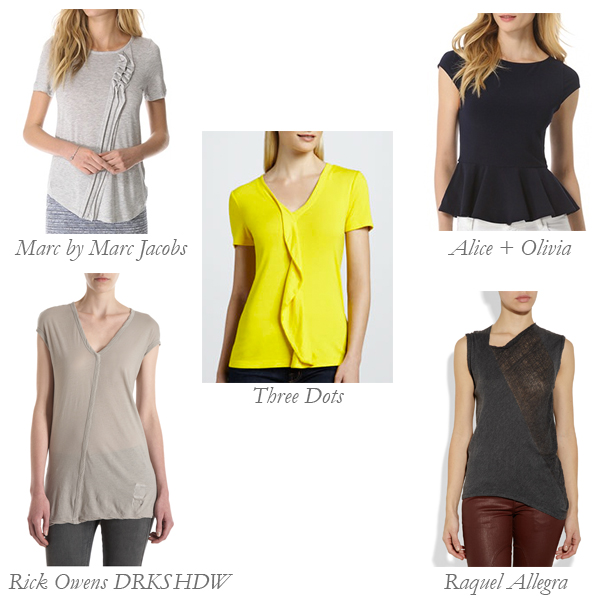 The summer tee is the least exciting staple that we wear the most, but it doesn't have to be so lackluster. Leave graphic tees behind and instead, find a shirt with a detail that will turn it into a serious top instead of just a sloppy tee. This will give you the best of both worlds – a relaxed feel with a dressy look. It's hard to find the perfect tee, so here are my favorites to help simplify your search:
Marc by Marc Jacobs Beals Jersey Tee: Mousy gray gets a makeover with a strip of ruffled flair. If you need a little help accentuating your shape, the curved hemline will be your best friend. On Shopbop for $98.
Alice + Olivia Ella Peplum Tee: Shapeless tees do nothing for the feminine form, so pick up some peplum if you want the girlishness of the skirted shape to show off your waist and add some hipness. Shopbop for $198.
Three Dots Ruffle-Front Top: Another ruffle detail, but instead of spilling down the front in a straight line, this one cascades like a solar ray. At Neiman Marcus for $75.
Rick Owens Drkshdw V-Neck Tee: This V-neck veers off course with a slanting seam. Nevertheless, it's the simplest choice in my pack of tees, so if you like your embellishments basic, this is your shirt. At Barneys New York for $315.
Raquel Allegra Shredded Cotton-Blend Jersey T-Shirt: These charcoal threads have been hand shredded to rocker chic perfection. Leave your straight edge days behind and break on through to the asymmetric side. On NET-A-PORTER for $200.