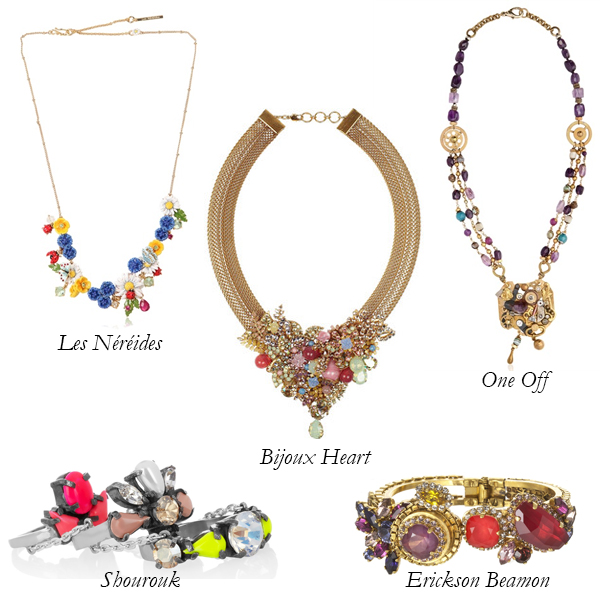 This spring is all about excess. After a long, drab winter, it's time to break out the biggest and the best jewels. Clusters of colorful gems, chains by the foot, and an abundance of sparkle the likes of which hasn't seen since the glittering Jazz Era. If you're not rocking at least ¾ of the rainbow, you're doing it wrong. Check out some of the brightest baubles here:
Bijoux Heart Sucre Gold-Plated, Swarovski Crystal and Chrysolite Necklace: A garden of colored chrysolite and Swarovski crystals flowers on this thick gold chain necklace. Exclusively on NET-A-PORTER for $1,560.
Erikson Beamon Bosa Nova Pink Bracelet: These vivid hues would stun if worn with a basic white sheath. And since "bossa nova" means new trend in Portuguese, need I even say more? On Charm & Chain for $514 (from $642).
Shourouk Arlequin Silver-Plated Swarovski Crystal Ring: Yes, bright stones always garner attention, but that neon glow isn't what is so special about this. These three rings sit staggered along your finger, creating a unique look that no one else will have. Exclusively on NET-A-PORTER for $655.
One Off Fancy Gears Necklace: This one-of-a-kind necklace looks like it was made with the inner workings of a clock. It was inspired by Steampunk, a sci-fi genre featuring steam-powered machines. On Luisa via Roma for $1,128.
Les Néréides Champêtre Enamel Necklace: As you plant spring flowers in your window box, don't forget to plant a few in your jewelry box, too! On Luisa via Roma for $423.