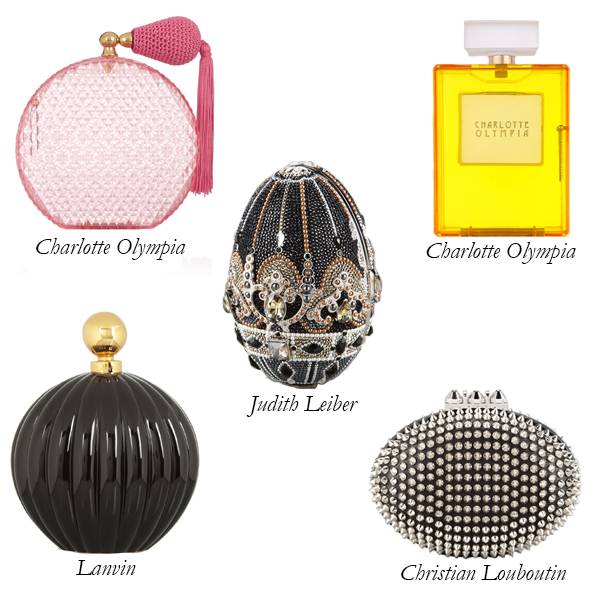 There are some perfume bottles too stunning (like Marchesa's!) to leave on your dresser when you head out on the town. Charlotte Olympia must feel the same way. She's always the first to capitalize on our unusual desires, and these faux spritzers are just what the perfumer ordered. Of course, Judith Leiber's also bottled up something bold, this time an ornate Fabregé egg minaudière. Which of these clutches will you be scooping up as your new arm candy?
Charlotte Olympia Pink Scent Perfume Bottle Perspex Clutch: Olympia's rose-colored bag strikes the balance between old and new with a retro macramé atomizer topping a trendy perspex body. On NET-A-PORTER for $1,295.
Charlotte Olympia Perfume Clutch: There's not a whole lot of storage room in this clutch, but you weren't buying it for functionality, were you? At Bergdorf Goodman for $1,295.
Lanvin Arpège Enamel Clutch: The moment I locked eyes on this clutch on the runway, I was ready for a trend to begin. Definitely pricey for a statement clutch, but you'll be getting wear out of this for years to come. Just remember, like real perfume, these bags are best used lightly – save it for only the most special occasions. On NET-A-PORTER for $3,610.
Christian Louboutin Spiked Clutch Bag: If you want a less overt take on the style (probably the only time you'll ever hear that said about fully-spiked bag!), Louboutin's weaponized clutch is ready to enter the ring. At Neiman Marcus for $1,895.
Judith Leiber Russian Egg Crystal Clutch: You rarely see someone carrying a Judith Leiber off a red carpet, and this is because they are just plain impractical. Celebs borrow them for events, but not even they tend to pay the nearly 5 grand price tag. At Bergdorf Goodman for $4,795.