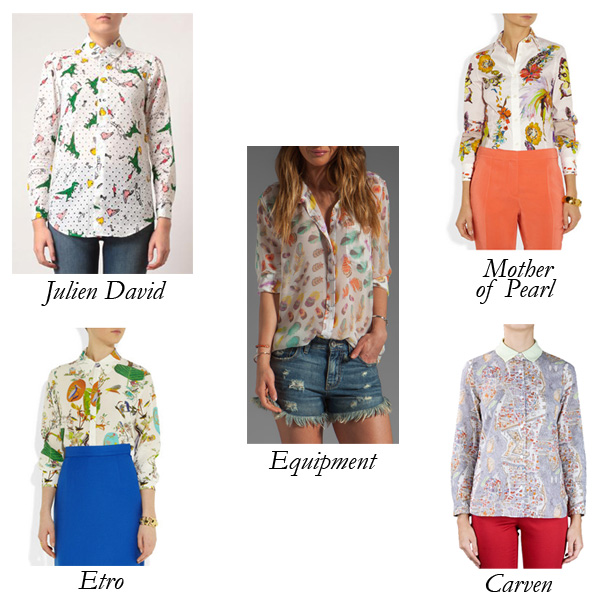 When it comes to printed shirts, there is such a thing as too much. Just because it's summer doesn't mean we have to pull the rainbow down from the sky and wear it. But you also don't want to walk around in a plain white blouse everyday. I've found some designs that strike just the right balance – from flowery and romantic to silly and fun, there's a style for every Snob. See which one will be your prints charming…
Julien David Digital Printed Cotton Shirt: Dinosaurs, rubber duckies, and the Queen's Guards – a whimsical combination made even more fun by the subtly perforated cotton. On Browns for $657.
Carven Paris Print Shirt: The contrast-collared shirt is a cute way to show your love for the City of Light. Just don't count on the detailed print to replace your map of Paris! On Farfetch for $271.56.
Etro Floral-Print Stretch-Cotton Shirt: This vivid floral print looks like it came straight from a painter's canvas. While spring might be about taking a moment to smell the flowers, I'd much rather wear them. On NET-A-PORTER for $440.
Mother of Pearl Keres Printed Silk Crepe de Chine Shirt: With this top, you'll get a bird's eye view from every angle. It's a true work of art – the avian print was designed by Italian artist Francesco Simeti. On NET-A-PORTER for $690.
Equipment Daddy Blouse: This silk shirt is light as a feather and the print is just as bright. Wear the extra-long shirt over skinnies or tuck it into some shorts. On Revolve Clothing for $228.