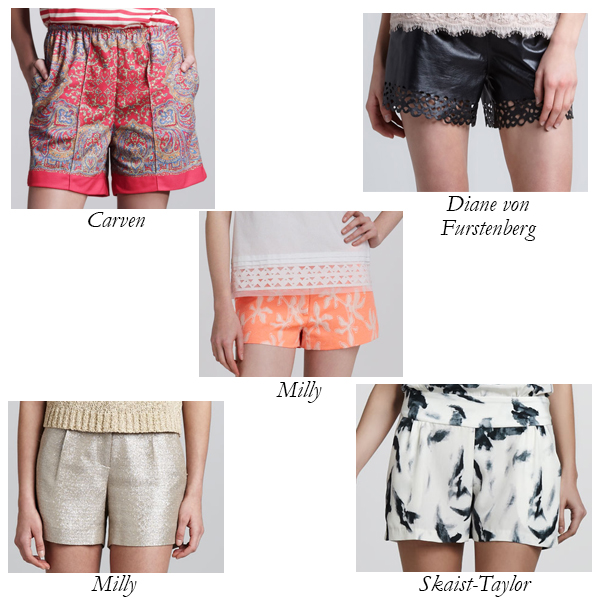 I love to wear shorts with high-heeled sandals in the summer. Otherwise, what was the point of building up that tan and suffering through those squats?? I don't mean casual shorts, but nice, dressy pairs that can take you from formal lunches to your afternoon hike without the blink of an eye. Even with just a basic white tee, the bold prints and cuts are guaranteed to excite. Check out the best styles at Bergdorf Goodman.
Carven Paisley Pique-Knit Shorts ($295): I love summery prints, and red paisley certainly fits the bill! Between that and the elastic waistband, you get a polished look and complete comfort, a rare combination.
Diane von Furstenberg Andi Laser-Cut Leather Shorts ($225): Shorts are obviously a summer staple, but in heavy leather, things can get a little hot. DVF's brilliant solution finds middle ground with the look and lightness you need for the season.
Milly Printed Beach Shorts ($200): Milly's youthful prints look right at home on a pair of beachy shorts.
Skaist Taylor Printed Silk Short Jumpsuit ($366): This cute bird print jumpsuit will have you feeling like a little girl again, yet with the soft silk and sophisticated bow, you're perfectly ladylike.
Milly Metallic Shorts ($210): To take these from day to night, just switch from flats to flirty heels. The metallic weave will shine just as nicely under the moonlight as it will beneath the sun.